Israel has struck symbols of Hamas control in Gaza in the heaviest bombardment of the conflict so far, firing tank shells that shut down the strip's only power plant, levelling a top Hamas leader's house, and damaging government offices and the headquarters of the Hamas satellite TV station.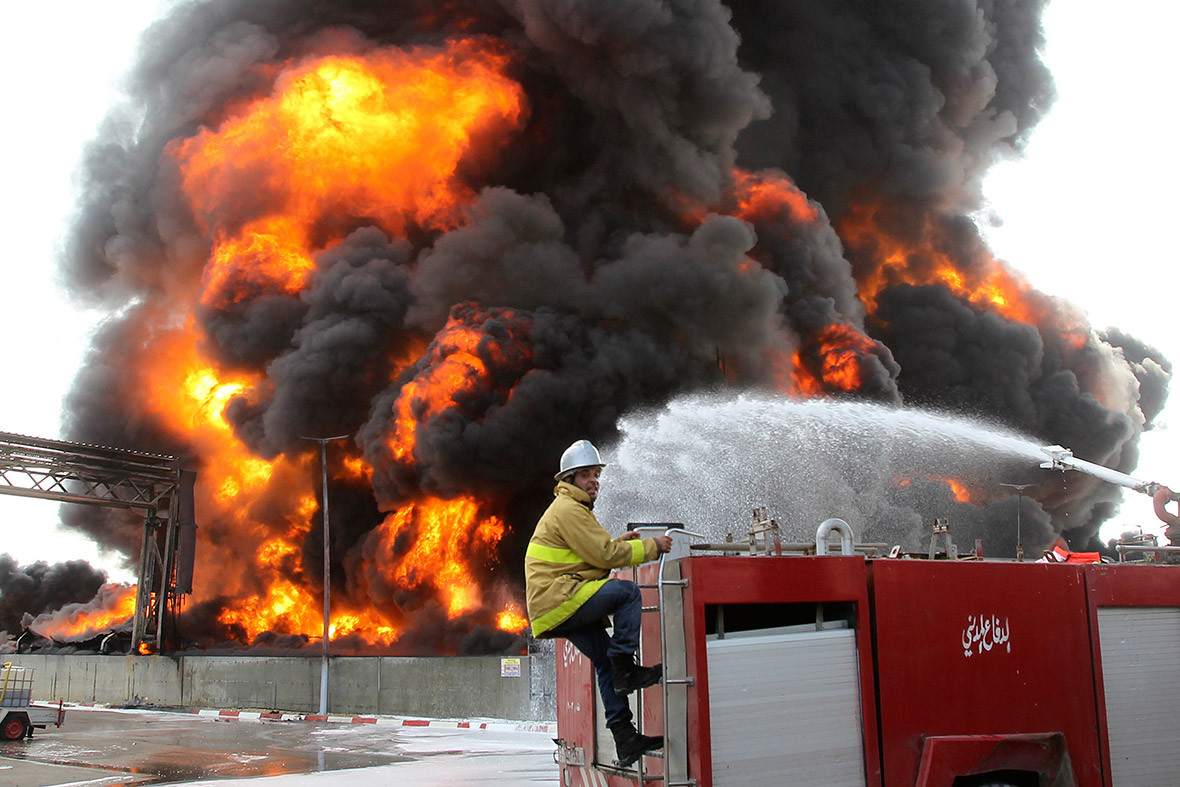 Gaza's power plant was forced to shut down after two tank shells hit one of three fuel tanks. The shelling sparked a large fire and a huge column of smoke was seen rising from the site. According to reports, 15 workers were trapped inside by the fire, though there was no immediate word on casualties.
It will take months to repair the damage. Even before the shutdown, Gaza residents only had electricity for about three hours a day due to damaged power lines.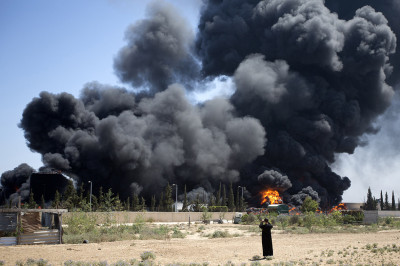 Israeli warplanes levelled the home of the top Hamas leader in Gaza, Ismail Haniyeh, turning it into a mountain of rubble.
No one was hurt at Haniyeh's home. Israel has targeted several homes of Hamas leaders but none was killed, as they appear to have gone into hiding. Haniyeh said in a statement that "destroying stones will not break our determination."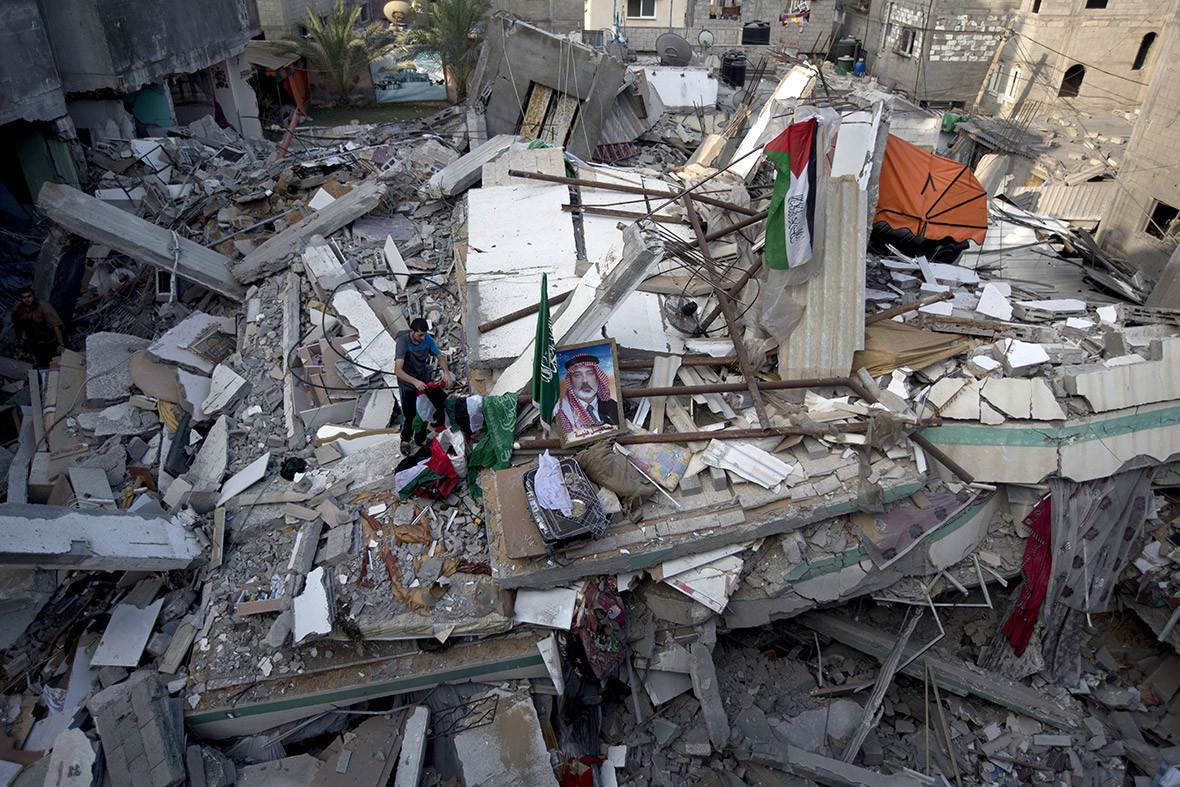 At dawn, plumes of smoke rose above the Al Shorouq media building in central Gaza City which houses the offices of the Hamas-run Al Aqsa television and radio. Hours earlier, at least two major explosions hit the media building, one of the tallest in Gaza, starting a fire on the roof and and shaking surrounding buildings. The building also houses offices of a number of Arab satellite television news channels.
Israeli war planes also destroyed a mosque in central Gaza City.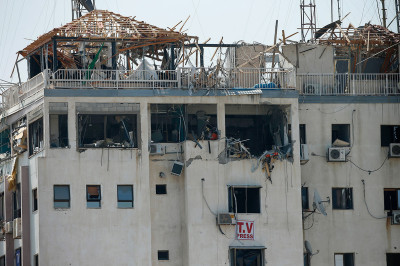 More than 1,110 Palestinians have been killed and more than 6,500 wounded since 8 July, according to Ashraf al-Kidra, a Gaza health official.
The UN has estimated that 75% of those killed are civilians.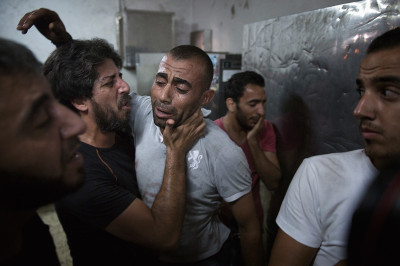 Israel has lost 53 soldiers, along with two civilians and a Thai worker.
Israel has said it is defending its citizens against attack from Gaza by hitting Hamas rocket launchers, weapons storage sites and tunnels under the border.
On Monday, Gaza militants infiltrated through a tunnel and killed five soldiers in a firefight. Separately, four Israeli soldiers were killed by mortar shells from Gaza that hit southern Israel.
After the deaths of the soldiers, Netanyahu signalled that Israel is intensifying its air and ground campaign. "We will continue to act aggressively and responsibly until the mission is completed to protect our citizens, soldiers and children."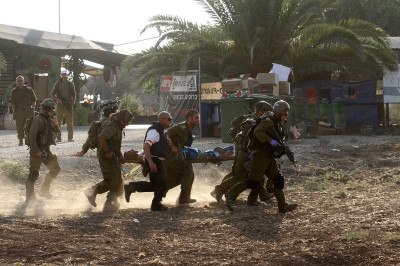 Tens of thousands of Gazans have been displaced by fighting in the border areas, which have come under heavy tank fire. Late on Monday, Israel urged residents of three large neighbourhoods in northeastern Gaza to leave their homes and head to Gaza City.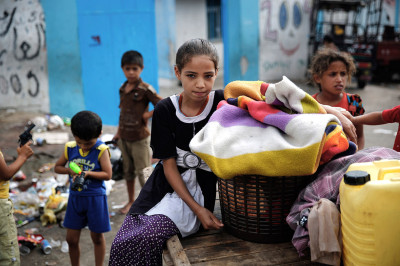 Despite appeals for a ceasefire, both sides have been holding out for bigger gains.
Hamas has said it will not stop fighting until it wins international guarantees that the crippling border blockade of Gaza will be lifted. Israel and Egypt had imposed the closure after Hamas seized Gaza in 2007. Over the past year, Egypt has further tightened restrictions, shutting down hundreds of smuggling tunnels under the Egypt-Gaza border, driving Hamas into a severe financial crisis.
In recent days, Israeli leaders have debated whether to withdraw from Gaza after the tunnels are demolished, or to expand the ground operation to deliver a more painful blow against Hamas.