'Do you feel like Hamas is using you as a human shield?'
I've been asked this question by many people since the last campaign of Israeli aggression against Gaza in 2009, and the subject has received reams of media coverage over the last few weeks - far more coverage, in fact, than Israel's killing of hundreds of civilians, its destruction of residential houses and its bombing of hospitals, schools and children's playgrounds.
First of all, let's make one thing clear. It's been shown during the recent days of aggression in Gaza that there is no evidence of Hamas using Palestinians as human shields. This has been verified by international journalists reporting from Gaza, including Jeremy Bowen, the BBC's Middle East editor.
What basis do people have for claiming Hamas is using innocent people to shield its weapons? What evidence do they have? The answer is: none. The people of Gaza are clustering where they are safe, not where they can sit on Hamas rockets. Am I being used as a human shield just for refusing to leave my house? My supposedly safe zone? I have already been forced to flee my house, and I'm still not safe.
The other 1.8 million people living in Gaza are in a similar situation. Our collective home is a rectangular tract of land, about 25 miles long and just a few miles wide, bordered by the Mediterranean Sea on one side and Egypt on another. In such a place, it's difficult for civilians to hide or go anywhere to avoid Israel's airstrikes, artillery and gunboat shells. They have no choice but to stay in their houses waiting to get killed, while Israel continues propagating flimsy accusations that we are being used to hide weapons.
On 24 July a spokesman for UNRWA, the UN's refugee agency in Gaza, said they had received no warning before Israeli forces shelled a school in Beit Hanoun and killed at least 17 displaced civilians who had taken shelter there, and this was not the first time Israeli forces have bombed schools serving as shelters in the besieged Gaza Strip. These schools shelter elderly people, women, children and UN employees; the same people who, according to Israel's PR machine, have been ordered to evacuate their homes before IDF bombing raids.
The civilians in that Beit Hanoun school were not used as human shields for Hamas, it was their own decision to take that school as a last resort, believing that a UN school would be a safer place for them while Israel was terrorising their areas and destroying their houses. Beside schools, Israel has targeted hospitals, opened fire on medics and ambulances, and banned them from entering under-fire areas to evacuate civilians and save their lives - as happened in Al-Shojae'ya and Khuza'a.
And let's clarify another point: Hamas is not just a military wing, it's also a political organisation embedded in civilian life, its members are civilians too. We're talking about a movement that runs hospitals, shops and many civic services and offices in Gaza. So when Israel decides to destroy everything related to Hamas and its infrastructure, it means destroying the whole City.
When the IDF targets a house because it belongs to a Hamas member, that means destroying the house and killing the target's whole family, as well as whoever is staying in the house. Neighbours are often caught up in the carnage as well. These people are not human shields; they are simply in the wrong place when the rocket lands.
As a Palestinian living in Gaza, I refuse and denounce the false claims of being used as a human shield for Hamas. It disturbs me that the world cares much more about these arguments than the fact that Israel is committing inhumane war crimes against me and my people. We're all together in this; the Israeli killing machine does not differentiate between civilians or military members, they kill everything that moves.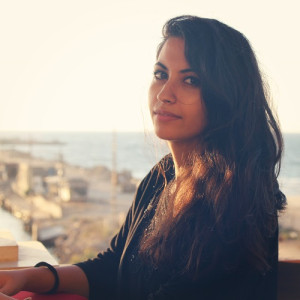 Walaa Ghussein is a journalist and activist who has written for several publications including Electronic Intifada. You can find her on Twitter here.
Read Walaa's last blog, about the chronic power shortage in Gaza and its attendant miseries for the people living there, by clicking here.