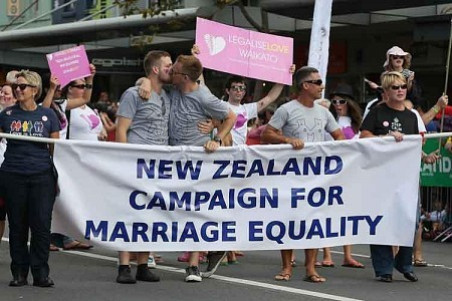 New Zealand has approved a bill legalising same-sex marriage, the first country in the Asia-Pacific region and the 13th in the world to do so.
On its third and final reading, lawmakers approved the amendment to the 1955 marriage act, despite opposition from Christian lobby groups, triggering cheers and applause from public galleries and hundreds of celebrations across the country.
People watching from the public gallery and some MPs started singing the New Zealand Maori love song "Pokarekare Ana", according to AP.
Around 70 percent of New Zealanders back the reform, according to opinion polls.
"In our society, the meaning of marriage is universal - it's a declaration of love and commitment to a special person," Labour MP Louisa Wall, who sponsored the legislation, said.
"Nothing could make me more proud to be a New Zealander than passing this bill."
The reform was supported by the conservative prime minister John Key and the leader of the opposition, but lawmakers were encouraged to vote according to their conscience.
New Zealand's churches and moral conservative lobby groups have pressured MPs to ditch the law but it did not change the final vote. Lobbying group Family First put forward a petition to parliament signed by 50,000 people against the bill.
"Excluding a group in society from marriage is oppressive and unacceptable," Wall said when she launched the third reading debate.
"This is not about church teachings or philosophy, it never was. The principles of justice and equality aren't served if the key institution of marriage is reserved for heterosexuals only."
More than 1000 Australian same-sex couples are ready to go to New Zealand to tie the knot, according to a report by the campaigning Australian marriage equality group.
"There's this really big, pent-up demand for this in Australia," Rodney Croome, national director of the group, said. "New Zealand is just a three-hour plane ride away, and many couples are going to go to New Zealand to marry.
"They are just so sick and tired of waiting for the government to act. I think it's going to spark this big tourism boom."
Australian prime minister Julia Gillard opposes same-sex marriage.