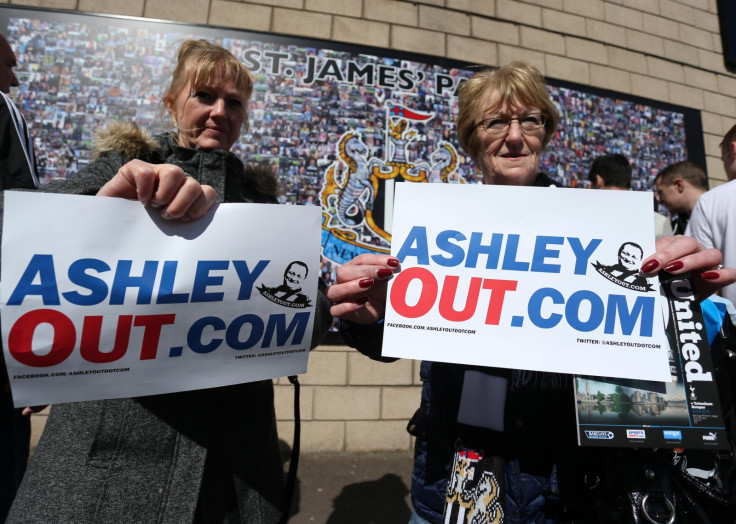 Scores of disenchanted Newcastle United supporters demonstrated their opposition to the ownership of Mike Ashley on 19 April, following through on their promise to boycott St James' Park for the clash against Tottenham.
Unrest at the direction at the club has taken since billionaire businessman Ashley arrived in 2007 has gathered pace over recent seasons, yet despite such antipathy attendances have remained high.
Positive financial results revealed by the club in March, which saw Newcastle announce a profit for the fourth consecutive year, appeared to hasten those feelings of disillusionment, however, and a subsequent social media campaign called for fans to bring their plight to the attention of a national audience by failing to attend for the visit of Mauricio Pochettino's side.
The boycott, supported by the Newcastle United Supporters' Trust and accompanied by protests outside the ground prior to kick-off, did not attract significant numbers but pockets of empty seats were certainly visible in front of the television cameras and the effort was enough to secure a significantly reduced crowd of 47,247.
That official attendance accounts for tickets bought rather than redeemed, so the real number is likely to be even lower when accounting for season ticket holders who chose not to turn up.
Newcastle suffered a 3-1 defeat to Tottenham despite Jack Colback's early second-half goal, a sixth loss in succession that has seen frustrations over an anonymous mid-table finish give way to fears that the club could be dragged down into the relegation mire with just five games remaining.
That dismal run, which included yet another defeat to fierce rivals Sunderland, has seen John Carver's chances of securing the job he inherited from Alan Pardew on a long-term basis sharply decline, although he refused to blame the latest result on the growing unrest from the stands.
"The one thing is – and I said this before the game – people are entitled to do what they want, and they have their opinion," he was quoted as saying by The Shields Gazette.
"I don't think that has affected what has gone on on the pitch, because all the players are professional, so once they cross that line, no matter what is going on around them, it shouldn't bother them.
"Yes, it can help them when the crowd is behind the team, but a situation like today shouldn't affect them, so there are no excuses there. We lost the game today because we weren't good enough."
Newcastle are now seven points above the bottom three having played one game more than 18th-place Leicester City.
They host Swansea next on 25 April before potentially significant matches against Leicester, West Brom and QPR.
Provided they do eventually manage to secure their top-flight status, Newcastle's hierarchy will be under pressure to reinvest funds in a host of new signings during the summer with the chronic lack of quality arrivals over recent transfer windows providing a significant cause of that aforementioned resentment.