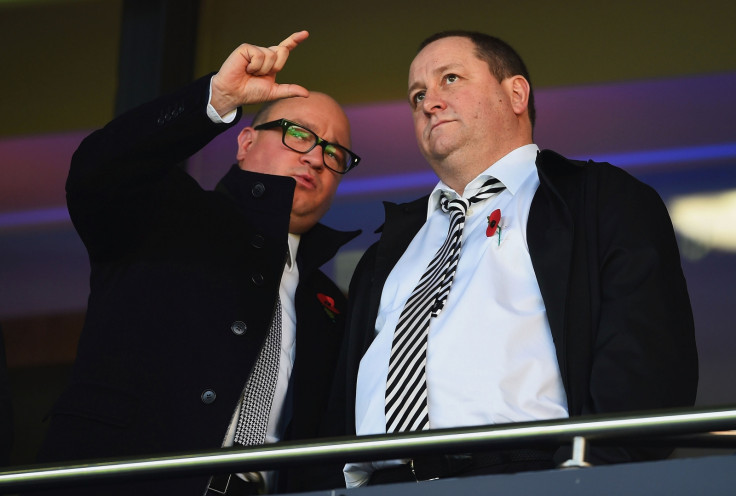 Newcastle could face Tottenham in front of a deserted St James' Park on 19 April, with disgruntled fans attempting to organise a boycott of the match in protest at the direction the club has taken under the ownership of Mike Ashley.
The Toon suffered the ignominy of a fifth consecutive defeat to fierce rivals Sunderland at the Stadium of Light on 5 April, a sixth loss in succession in the Premier League since John Carver was appointed manager until the summer following the defection of Alan Pardew to Crystal Palace.
The club remain nine points clear of the bottom three and should, barring an unfortunate sequence of events usually reserved for a Lemony Snicket novel, avoid being dragged down into the relegation mire with just seven games left to play this season.
Despite this, though, large numbers of supporters have become increasingly disillusioned with another top-flight campaign tailing off into mid-table obscurity, with a lack of ambition in the transfer market a particular cause for concern.
As a result, a social media campaign dubbed #BoycottSpurs calling for fans to draw the attention of a national audience by staging protests and failing to attend the match against Tottenham is beginning to gather serious pace.
"#BoycottSpurs was an idea that originated from conversation with several of our followers on Twitter after yet another dismal performance against our rivals Sunderland, on Sunday," Craig Nicholson, who is fervently drumming up support for the boycott via his NUFC Stats Twitter account, told IBTimes UK.
"It is important that onlookers know that the boycott is not just a knee-jerk reaction to losing to Sunderland, nor does it have anything to do with the performance of Alan Pardew at Crystal Palace.
"We're tired of constant lack of ambition with regard to progression in cups and high Premier League finishes.
"We're tired of the lack of investment in the first-team squad - the risky buying of overseas players for little money in the hope that, by selling the club as a stepping stone to bigger things, they will make huge profits which are then not reinvested again in the team. Those that don't, simply aren't good enough.
"We're tired of the frequent streams of contradictory statements by people like [managing director] Lee Charnley and the 'cloak and dagger' nature of the club's goings on behind the scenes, including the new operating figures for 2013-14 for which some £30m are unexplained."
'Myth' of unrealistic expectations
Newcastle fans, who still attend fixtures in high numbers despite a lack of support for the current regime, have often been accused of unrealistic expectations with regards to the performance of their team, yet Nicholson believes this is not the case.
Nicholson said: "There is a simmering myth out there about the expectation and demands of Newcastle United fans, which make anything to do with running/managing the club untenable. This isn't true. We want a club that has a vision; a progressive vision with ambitions to do better year after year in it's performance on the pitch, as well as financially.
"A club with players who want to play for Newcastle United and show passion on the pitch. A club who wants to appoint ambitious coaches and managers who implement a philosophy of play, regardless of cost. We want our Newcastle United back."
In addition to calls for a mass boycott, a separate website has also been set up under the banner of AshleyOut.com, pledging to work alongside such social media campaigns and provide the background to all future protests while urging Ashley to sell.
"We have liaised with all of the supporter groups in some form and mainly with Ashleyout.com, the guys behind the 'Sack Pardew' initiative to ensure unity and consistency between our ideas and motivations," Nicholson added.
Supporters' Trust wants to see an improvement
The Newcastle United Supporters' Trust (NUST), have recognised the movement and although they acknowledge it is not their own, they seem in favour of any protest that may lead to increased involvement in the way the club is run.
"Following a predictable derby defeat at Sunderland which revealed the cramping lack of investment in Newcastle United at almost every level of the club's operation, it is understandable feelings are running very high," it said in a statement released on its website.
"We at the Newcastle United Supporters Trust share the supporters' frustrations, indeed having board members at Sunday's game, we saw the anger first hand and we share in that.
"We are also aware of a new supporters group which wishes for the removal of Mike Ashley as the owner of Newcastle United. NUST believes in supporter representation/ownership and we have tried to engage the club for years to no avail.
"We understand why supporters are so frustrated that they see such action as necessary. While it is not our campaign, we support action that is intended to bring about change in ownership of the club particularly if it ultimately results in increased supporter representation/ownership.
"Ultimately, we are a members based organisation and we will be guided by those people who are members of the Supporters Trust in whatever course of action we take."
Supporters of Ashley may point to the club's financial stability and relatively safe mid-table position as evidence that things are not quite as bad as they may seem at present.
Newcastle announced a record profit of £18.7m ($28m) after tax in March, the fourth year in a row that money was made.
The club were contacted by IBTimes UK for their response to the proposed protests but declined to comment.
Carver, however, did address the issue in his pre-match press conference ahead of the trip to Liverpool.
"People will do what they want to do, but I know the majority will turn up as they love the club," he stated.