Newcastle United fans will be hoping that they will see major investment over the summer after learning that chairman Mike Ashley raised £100million by selling part of his stake in Sports Direct International.
Ashley, the founder and deputy chairman of the sporting goods retailer, cut his shareholding from 68.8% to just over 64% after selling 25million shares in the company on Tuesday.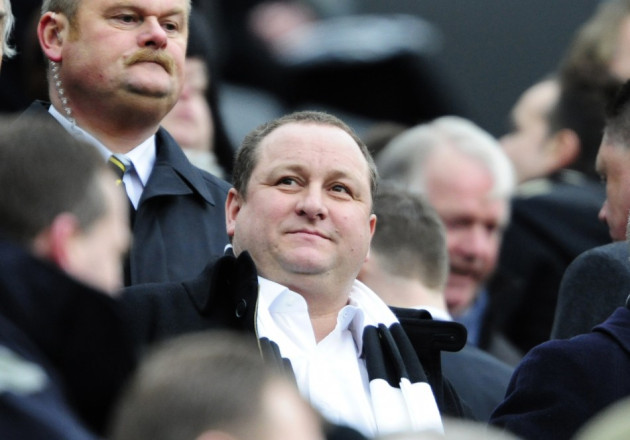 It reason for the sale still remains unclear but fans of the north east club will hope that they will see significant investment in a side which is still battling to steer clear of the relegation zone.
Ashley bought Newcastle back in 2007 after securing Sir John Hall's 41.6% for more than £55million and has since overseen a period of both highs and lows.
Newcastle supporters voiced their concern over the wealthy Londoner buying the club, labelling the owner and his appointed director of football Dennis Wise the 'Cockney Mafia', but Ashley remained at the club and eventually delivered success.
Having suffered relegation, Newcastle won promotion back to the Premier League with Chris Hughton at the helm but he was soon sacked and replaced by Alan Pardew; a decision which once again made the fans unhappy.
However, last season was a huge success as Newcastle finished fifth in the league and secured a place in the Europa League.
Despite a difficult campaign Newcastle remain in Europe and their league form has improved after heavy investment during the January transfer window which saw five new players arrive.
Moussa Sissoko has already proved to be a huge hit at St. James Park and the Geordie faithful will now hope that some of the £100million is given to Pardew so that he can continue to improve the squad.
Newcastle managing director Derek Llambias recently admitted that there were still targets in France, as well as several other European markets.
"There are still targets in France, by the way. We haven't finished with the French market," Llambias told the Newcastle Journal. "We want to expand in Europe. We'll be moving around Europe: we already do.
"Obviously we like the Dutch market, the Belgian market too. I mean look at the Belgian national team now, it's outstanding what they've done there.
"But there are other areas we'll explore too. Kevin (Mbabu) is an excellent prospect, he's 17 and he's a good acquisition for us. We're looking everywhere."