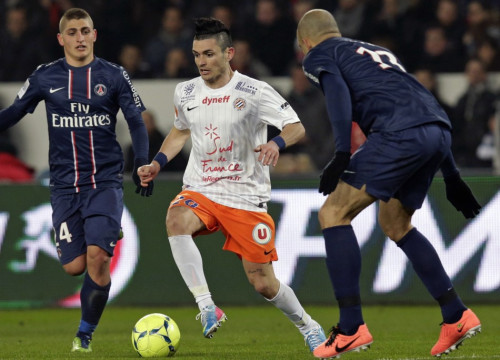 Newcastle United are expected to abandon attempts to sign Montpellier midfielder Remy Cabella after the French Under-23 international stated his intention to remain at the Ligue 1 club.
Despite having not been capped at senior level by his country Cabella is highly thought of in his French homeland and has scored six goals for a Montpellier side who are languishing near the foot of the Ligue 1 table.
Among the 23 year old's admirers are Newcastle, who have previously shown a partiality to signing French based players – with six arriving in the last January transfer window – and Alan Pardew is set to meet with owner Mike Ashley and director of football Joe Kinnear regardings transfers.
But it appears that Cabella won't be part of Newcastle's January plans after the Montpellier man decided against leaving for the Premier League despite claiming he would be "interested" in such a move in the future.
"For the moment, in my head, I'm 100 per cent Montpellier," Cabella told French radio station RMC. "If a proposal comes, it is up to the two clubs to discuss and I will think in terms of that.
"I am not aware of what is happening, I am dedicated to playing and that is the most important. Newcastle? Well, we realise that at some point we must leave. I think I'm capable of it.
"England interests me, there are good clubs out there. If Montpellier reaches an agreement with an English club that suits me, I'll be happy."
"I think this is my last season with the club and I do not want to leave Montpellier in Ligue 2," he added.
"This is my last year and I hope to finish in style. I love England but also Spain, Italy and Germany."
Cabella's flirtation with the idea of a move abroad won't endear him to the Montpellier hierarchy who expect the player to remain at the club at least until the end of the season.
Montepellier president Laurent Nicollin said earlier this week: "As for Newcastle , it seems to me they are about to make one (an offer), but I expect confirmation on that. But the idea is still that Remy is with Montpellier until June."
Montpellier coach Rolland Courbis added "Remy Cabella? It is best to keep him but if Loulou [Nicollin] decides that it can be done in January, it will be in January."
Montpellier are hovering just three points above the Ligue 1 relegation zone ahead of Valenciennes and it appears certain that only a significant improvement in their fortunes can prevent Cabella from staying beyond next summer.