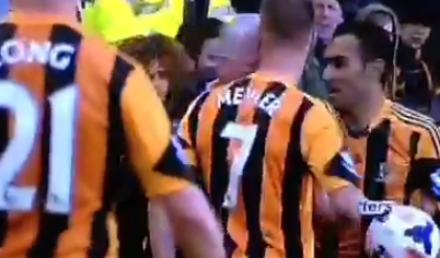 Newcastle United manager Alan Pardew faces punishment after being charged with improper conduct by The Football Association after a headbutt on Hull City's David Meyler.
Pardew was sent to the stands by referee Kevin Friend after the incident with Meyler in the 72nd minute of his side's 4-1 win at the KC Stadium.
The Newcastle boss was fined £100,000 and given a formal warning by the club on Saturday evening and apologised for the episode, though The FA are expected to hand Pardew a heavy punishment.
"Newcastle United manager Alan Pardew has been charged in relation to an incident in his side's game against Hull City on 1 March 2014," an FA statement read.
"It is alleged that in the 72nd minute of the fixture, Pardew was involved in an incident with a Hull City player that amounted to improper conduct.
"Due to the serious violent and/or aggressive nature of the reported behaviour this case has been designated as non-standard.
"Pardew has until 6pm on Thursday 6 March 2014 to respond to the charge."
The confirmation of the charge follows FA chairman Greg Dyke claiming the incident would be "investigated".
Ex-Blackpool manager Paul Ince was earlier this season given a five-match stadium ban after a physical assault on a match official after the 2-1 win over AFC Bournemouth but after being charge with improper conduct Pardew is unlikely to be reprimanded in similar fashion.
"I did not mean any damage to the guy but I have moved my head forward," said Pardew on Saturday "I tried to push him away with my head. I apologise to everyone. I should not have got involved in it. I don't think it was a headbutt. It wasn't a motion that was quick."
In September 2012, Pardew was given a two-game ban and fined £20,000 for pushing a linesman during the 2-1 win over Tottenham Hotspur while he was forced to apologise earlier this term after being caught by television cameras swearing at Manchester City's Manuel Pellegrini.
The 52 year old former West Ham United boss, who has pledged to stay away from the touchline in future, escaped the sack by Newcastle after accepting a hefty fine from the St James' Park club but former boss Graeme Souness said: "That is a sackable offence. I've been frustrated and upset by a number of things, but I've never gone down that road."
League Managers Association chief executive Richard Bevan added: "The buck stops with Alan. It's unacceptable, it's inappropriate and it's insupportable from every perspective and Alan knows that.
"He immediately realised the serious error, (made) sincere apologies to all parties and obviously (has) deep regret. It was good to see (Hull boss) Steve Bruce's reaction and Hull accepting (Pardew's apology).
"But Alan does need to think hard about how not to put himself in that position again."