The Nexus 5 is smaller than LG's G2, has a narrow bezel and an OK screen according to someone who claims to have used it.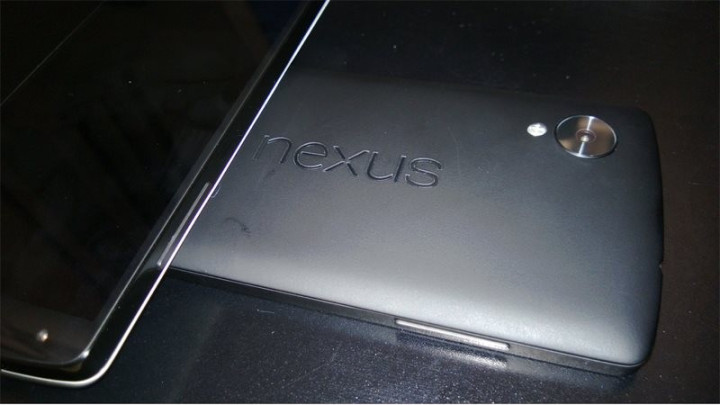 The image is just the latest in a string of leaks of Google's flagship Android device, which is set to launch on 14 October. The latest leak comes courtesy of a member of MacRumours forums who posted the above image but when asked for more details, responded by saying:
"I wish I could. Google is sneaky and has ways to see where the leaks come from. They are funny too. When the phone started up it needs to be updated. Some experimental software stuff and it says you need to guard it like a ninja."
However in an earlier post, Weespeed gave some more details about his initial impressions of holding a Nexus 5 for the first time:
"Got to handle the Nexus 5. It is smaller than the G2. Didn't actually measure it, but holding it in the hand it is smaller. It does feel good holding it. The black back cover feels like my Nexus 7. The screen was ok, didn't wow me like the Note 3. The bezel is very small."
Official
Google has yet to make any official pronouncements about the new smartphone, but in a video to promote the new version of Android, to be known as KitKat, one of the Google employees is seen using a device which looks very like the smartphone in the picture above. The video has now been removed by Google.
There have also been multiple leaks of the device through the Federal Communication Commission (FCC) giving us details like the large 2,300mAh battery, 5in screen, nano SIM card support and the fact the phone will once again be made by LG.
This week we have further leaks in a Nexus 5 log file which shows the device running Android 4.4, using a rumoured messaging service from Google called Babel, and with a screen resolution of 1920 x 1080. The logs also reveal that the Nexus 5 will support wireless charging.
With Nexus 4 stock not being replenished on Google's own Play Store for a couple of weeks now, and the one-year anniversary of the Nexus 4 launch approaching, it's a fair bet that Google will launch the Nexus 5 this month with the smartphone going on sale in November.