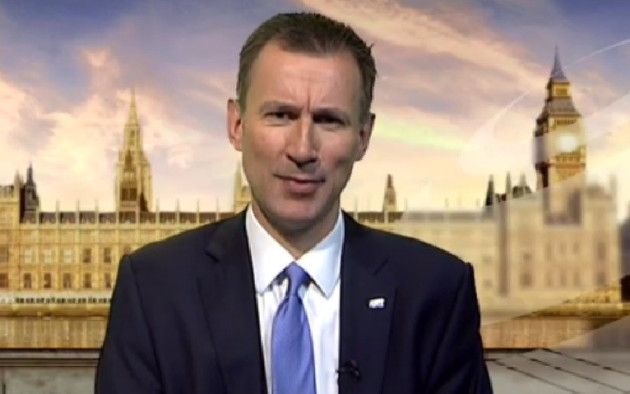 Jeremy Hunt's bid to stamp out "health tourism" by charging foreigners £200 to see a doctor has been condemned as a xenophobic attempt to play politics with the NHS that would ultimately prove unworkable.
The health secretary outlined measures that would shave £12m off an annual NHS budget of £109bn - a 0.01% saving - by charging non-EU nationals a £200 annual fee to access non-emergency treatment if they stay in Britain for more than six months.
Treatment of non-Britons in the UK costs the NHS £30m.
Doctors warned that the move risked turning surgeries into immigration centres but Hunt said he was "determined to wipe out abuse in the system".
Hunt, who will announce a public consultation on the plan, added: "We want to have a system that is fair for the British taxpayer. It is a National Health Service not an international health service."
Some have welcomed the move in principal, saying that Britons were required to pay for medical care abroad. But others suggested that the administrative costs of imposing the charge could easily exceed the targeted savings.
Political opponents warned that the move could be a first step towards introducing NHS charges for UK nationals in Britain. Installing cashiers in hospitals undermined the NHS's founding principle that the service should be free at the point of delivery, said critics.
Clare Gerada, chair of the Royal College of GPs, said the annual £30m cost represented just two hours of the NHS's annual spending, and warned that the plans would place further burdens on doctors.
"My first duty is to my patient," she said. "I don't ask where they're from or whether they've got a credit card or whether they can pay."
Hunt suggested foreign students could be required to pay the fee upfront, alongside their visa costs, as is the practice in the US or Australia.
He said the government was considering methods of collecting the money centrally rather than asking NHS services to do so but insisted that he was "not talking about turning anyone away".
Foreign patients who did not pay upfront would be "chased up" for money after treatment, he added.
'Health risk'
Labour's health spokesman Jamie Reid said: "It's absolutely essential that any policy is based upon facts, not on perceptions or dog-whistle policies or assumptions which are proven later not to be true."
Health experts raised fears that allowing foreigners with infectious diseases to go untreated could pose grave health risks to the community.
The National Aids Trust said the policies would undermine years of work to encourage marginalised at-risk groups to access HIV testing and treatment.
Chief executive Deborah Jack said: "Limiting access to primary care for some migrants [would cut off] the only place many of them will get an HIV diagnosis - short of presenting at A&E many years after they were infected once they are very seriously ill.
"If they go ahead [with Hunt's plan] they risk putting lives at risk and accelerating the spread of HIV in the general population."
The Department of Health said people with HIV would still receive free healthcare if the scheme were introduced.
Foreigners are currently allocated an NHS number when they visist a hospital or GP surgery, which automatically entitles them to free treatment. Hunt suggested that instead they could be issued a temporary number, making them eligible to pay for treatment.
Labour MP Diane Abbott accused the government of playing a dangerous political game with public health. "What price xenophobia? Stigmatising foreigners accessing NHS creates a public health risk," Abbott wrote on Twitter.
Labour's Liz Kendall, shadow minister for care and older people, said: "The Conservatives should guard against overblown rhetoric or making unrealistic claims.
"We will have many questions to ask about the details when they are published but the key tests for their proposals are: can they be properly enforced and will they save more money than they cost to put in place?
"The public and NHS staff must be confident that any new measures are about getting taxpayers a better deal and ensuring fairness, not playing politics with our NHS."