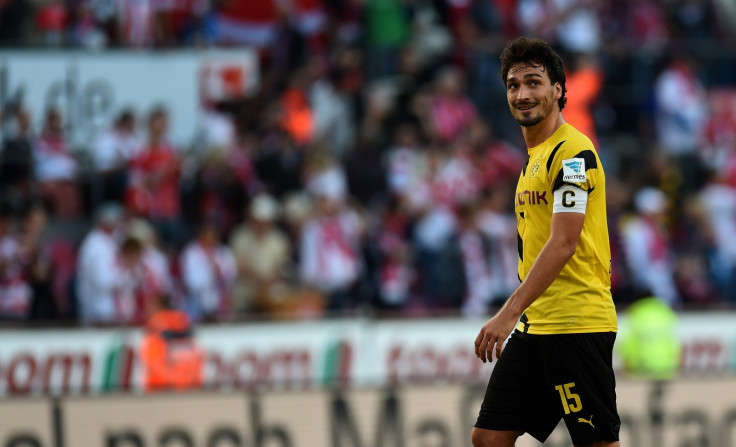 Former Arsenal and Manchester City striker Niall Quinn has urged Arsene Wenger to sign Manchester United target Mats Hummels.
The Borussia Dortmund centre-back has been constantly linked with a move to Old Trafford as Louis van Gaal looks to strengthen his side's defence. In addition to this, United's league rivals Arsenal are also chasing Germany's World Cup winning defender.
Wenger has already spent heavily in the last two summer transfer windows, having added Mesut Ozil and Alexis Sanchez to the squad. Despite the two big signings, Quinn believes the north London club lack leaders and the addition of Hummels will make a difference for Arsenal.
"Mats Hummels looks to me that kind of character who could come in and make a difference. He wouldn't look at his feet if something went wrong," Quinn told the Daily Mail.
"When Arsenal flow as a team, they are brilliant. But there is a disjoint with the fans because the people who fill the stadium crave being at the top again."
"They always seemed to sign the right player when [former vice-chairman] David Dein was working with Wenger. I look at Nemanja Matic at Chelsea and think, 'Wow, he'd have been great in this Arsenal team'."
"Roy Keane helped drive Manchester United. He didn't let Ronaldo dance all over the ball and allow somebody to run off him to score a goal," he added.
The 48-year-old believes Arsenal will face a challenge in securing Hummels' services as he claims that United are ahead of his former club in the race to sign the Dortmund star.
"Arsenal need to sign a player to do that, and Hummels is the one everyone is talking about. Will they beat Manchester United to him? I don't know because United need exactly the same thing themselves now, but Arsenal should do something," the former Arsenal striker said,
"Arsene likes to always achieve value in transfer deals, but I just wish that the board would tell him there are times when you have to overspend. Dein and Arsene together wouldn't have got to this point," Quinn concluded.