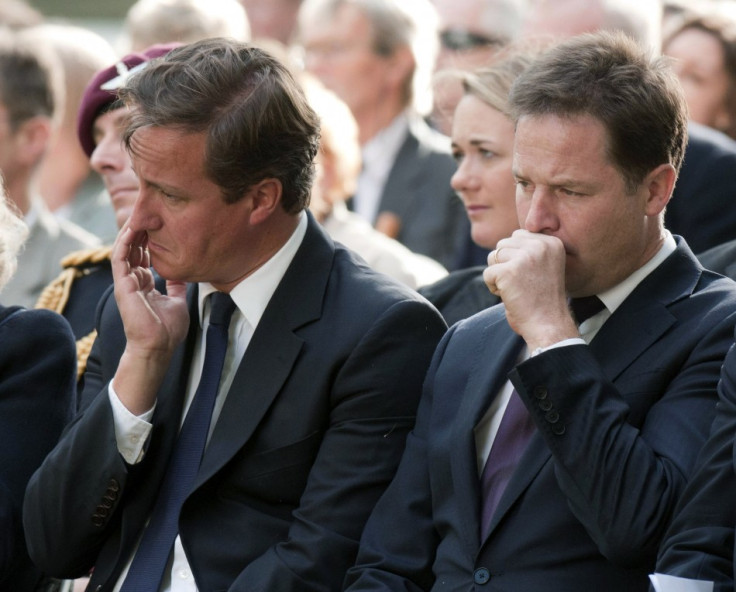 The deputy prime minister, Nick Clegg, is "completely off the wall" in criticising Prime Minister David Cameron's veto at the EU summit and has made his position in the Coalition government "untenable", says an influential Tory backbencher, Bill Cash.
Speaking to the International Business Times UK, Cash, the Conservative MP for Stone, attacked the Liberal Democrat leader for not taking "collective responsibility" in a decision that was of such "vital importance for Britain."
He said: "How he can turn around to the prime mister and say 'this is bad for Britain' is beyond me."
The remark highlights the huge strain on the Coalition following the EU Summit, which Clegg said has left Britain "marginalised and exposed".
But Cash, who had advised then-Prime Minister John Major not to sign the Maastricht Treaty in 1992, said: "There is a massive fault line between the parties that has been there from the beginning. I think that his [Clegg's] position is now untenable."
The deputy prime minister, who was telephoned at 4 a.m. Friday to be told of the veto, Sunday attacked Cameron in an interview with the BBC over his rejection of the new treaty, calling it a decision to pull away from the EU.
The interview, which went out live on the Andrew Marr Show Sunday, may have surprised Cameron after his deputy had initially appeared to support his decision. It has forced the Conservative leader to schedule a statement to MPs in the Commons at 3.30 p.m. Monday, where he is expected to rigorously defend his decision.
Junior members of the Liberal Democrats are said to be "deeply concerned" by the unfolding events at the summit on Friday, which has put the UK on the "outside of a two-tier Europe", according to Clegg. The Lib Dem chief secretary to the treasury, Danny Alexander, told the BBC "Today" programme the government should now focus on not being the "odd man out" in Europe.
The deputy PM will meet with business leaders to discuss a pro-EU agenda in what he calls a "political push back" against the Tory Eurosceptics.