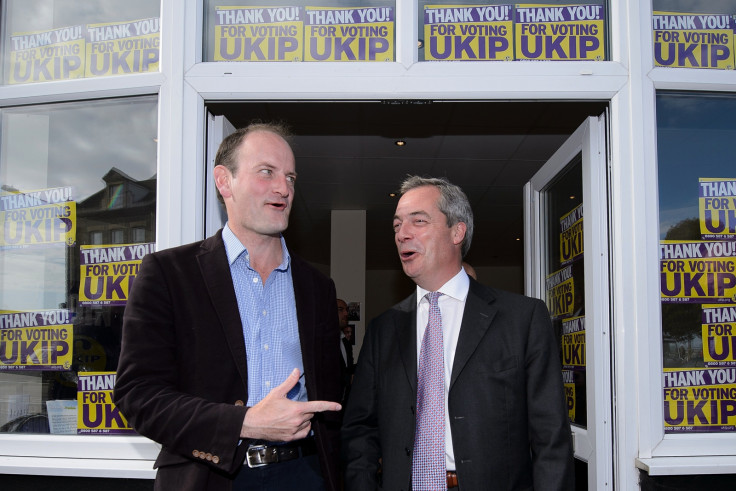 Douglas Carswell and Nigel Farage celebrated the end of the short-lived Ukip civil war together by taking their case for electoral reform to Downing Street.
The Ukip leader and the party's only MP put on the united front after bitter infighting threatened to tear the Eurosceptic party apart.
The internal rows went public after Ukip MEP Patrick O'Flynn described Farage as "snarling, thin-skinned and aggressive".
The economics spokesman made the scathing comment to The Times after Ukip's national committee reportedly refused to accept Farage's resignation in the wake of the general election.
Carswell, meanwhile, fell out with the party over the amount of public money Ukip should take. The so-called "short money" is intended to help non-government parties represented in the House of Commons with administrative and staffing costs.
The Clacton MP wanted to take a reduced sum of £350,000 ($548,625) a year in bid to reduce the cost for the taxpayer, while Ukip HQ pushed for the full £650,000 per annum.
But Farage and Carswell seemed to put the spat behind them when they delivered a 120,000-strong petition to the prime minister calling for a "fairer" voting system after Ukip secured almost four million votes at the election but only one MP.
The Eurosceptics made an unlikely alliance with the Green Party over the issue and Natalie Bennett joined them on this morning's campaign trail.
The Green leader claimed that millions of voters in the UK were "disenfranchised" at the election because the first-past-the-post system "failed to take into account people's views in our new multi-party politics".
"If this government is serious about re-energising our politics, they must look seriously at constitutional changes which allow people's opinions to be better represented in the House of Commons," Bennett said.
"I'm pleased to be joining together with other parties today to be calling for a new voting system which allows a variety of voices to be heard in parliament."
The group were also joined by politicians from other pro-reform parties, including the SNP and Plaid Cymru.