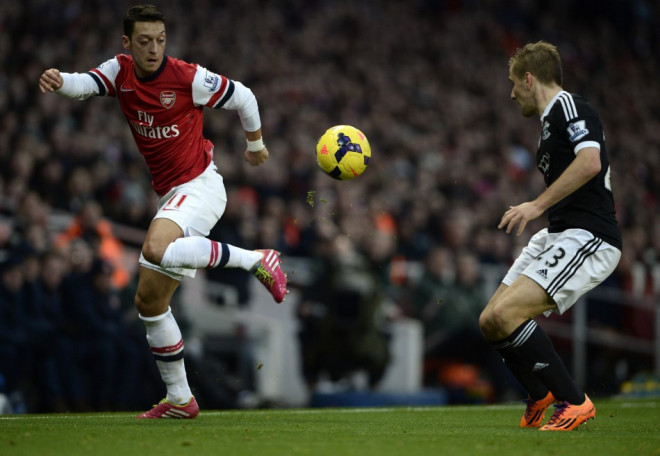 Arsenal legend Nigel Winterburn claims Mesut Ozil is yet to adjust at the Emirates and his performance needs to be judged in his second season at the club.
The German international was signed by Arsene Wenger from Real Madrid for a club record transfer fee of £42.5m last summer. Ozil had a quick impact for the Gunners earlier in the season.
However, the 25-year-old's performance since the turn of the year has seen him receive criticism from a portion of Arsenal faithful and football pundits. This includes a penalty miss during the Gunners' 2-0 defeat to Bayern Munich at the Emirates.
The former Arsenal defender has asked the fans to be patient as he believes Ozil's price tag has seen him being subjected to criticism in recent times.
"When you come with a big reputation [it's hard]. The way he started [was brilliant] but he's still coming to terms with life at Arsenal. It's very hard," Winterburn told talkSPORT.
"I don't see Ozil as a player who's going to dominate a game for 90 minutes. He's a player who comes in and out of games. As a long as he's coming into the game a fair bit, and making contributions, [then that's OK]. That's what we're going to see with Ozil.
"People are also going to ask questions because of his transfer fee and the fact his performances have dropped. I've always said, no matter where you come from, when you make a big move, you have to be judged on your second season," he said.
Arsenal have not invested in signing a striker in January. Wenger has the services of Olivier Giroud, Nicklas Bendtner and Yaya Sanogo to lead the Gunners' attack.
Winterburn claims the Frenchman should have signed a striker. Arsenal favourite insists that his former club needed a player as he suggests that Sanogo is the one for the future.
"One area that worries me is the centre-forward role," he continued. "I know Arsene Wenger really rates Sonogo but he's got a lot of developing to do. Against Munich, particularly in the first half, there were aspects of his play that were very good. He's one for the future. If you look at the squad in the cold light of day, Arsenal do need another striker though," Winterburn added.