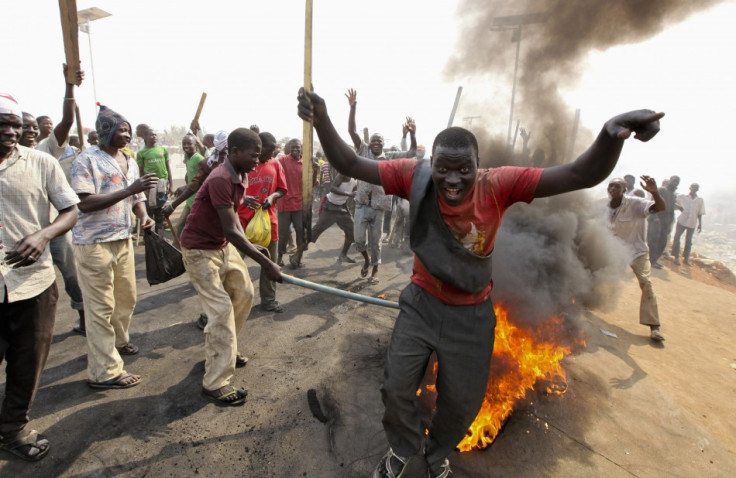 Thousands of Nigerians have taken to the streets of Abuja, Lagos and other major cities across the country as a general strike takes hold and unconfirmed reports surface of more deaths.
Early Twitter reports claimed that at least two people have died - in Kaduna and Lekki - and that some demonstrators have armed themselves and have fired back at security forces.
According to other reports, at least three people have died in the unrest since a general strike against scrapping fuel subsidies was called on Monday.
Petrol prices have soared since the government scrapped the subsidies on imported motor fuel.
In a country rich in natural resources but crippled by poverty and corruption, the move stoked predictable anger. Past protests have forced previous governments to back down from scrapping the subsidies.
Protesters called for the resignation of finance minister Ngozi Okonjo-Iweala and her counterpart in the ministry of petroleum, Diezani Allison-Madueke. Others want President Goodluck Jonathan to go.
The government insisted the measure was necessary as part of a package of economic reforms. Despite being Africa's biggest oil producer, Nigeria still imports around 85 percent of its refined petroleum products.
While the subsidies guaranteed cheap fuel for ordinary citizens, the government reportedly spent more money on subsidising the import of fuel and its distribution than it allocated to either health or education.
Analysts have also pointed out that subsidised fuel encouraged corruption and petrol smuggling into neighbouring countries, where prices are higher.
"Nigeria needs economic reforms. The government now needs to make sure that the money that will come from the removal of petrol subsidies will be reinvested in infrastructure projects." Sola Tayo, an associate fellow at the thinktank Chatham House, told International Business Times UK.
Amid increasing tension between the Muslim North and Christian South, the fuel move has had a mobilising effect on the population. "All Nigerians are against the government," Tayo added.
Jonathan has vowed to proceed with economic reforms. In a recent speech, he deflected attention from the general unrest to the activities of the Islamist militants of Boko Haram, which told Christians in the north to leave the region.
"Speculation that the government might struggle to survive the latest wave of protests is worrying, as other options could include military intervention or civil chaos, two rather bleak options for Nigeria," Tayo warned.