There are fears deadly Ebola - which has been spreading through western Africa for months - may have reached the commercial capital of Nigeria, Lagos, placing over 20 million people at risk from the deadly virus, which has no cure.
A 40-year-old man from neighbouring Monrovia is being tested in a local hospital after showing symptoms of Ebola including severe vomiting and diarrhoea.
Yewande Adesina, a specialist health advisor for the Lagos state government, said the man had arrived in the Lagos, the largest city in Afirca, on Sunday night after travelling from Monrovia via Togo before reaching Lagos, the largest city in Africa.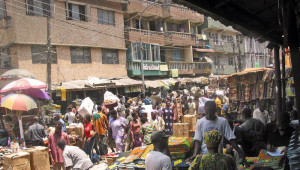 Adesina said the man had been "detained for possible Ebola infection while blood samples were sent to the Virology Reference Laboratory in Lagos as well as to the World Health Organisation (WHO) in Dakar." A third blood sample would also be sent to a lab outside Nigeria and the results are pending, she said, adding: "Presently the patient's condition is stable and he is in recovery."
Ebola virus disease (EVD) or Ebola hemorrhagic fever (EHF) is fatal in up to 90 per cent of cases and there is currently no antidote. More than 900 cases have been recorded across west Africa in recent months, mainly in Guinea, Liberia and Sierra Leone, making this the worst outbreak since the disease was first identified in 1976. It is believed the virus is mainly spread due to people eating bats but it can also be passed through bodily fluid including sweat.
Earlier this month WHO spokeswoman, Fadela Chaib said, "If we don't stop the transmission in the several hotspots in the three countries we will not be able to say that we control the outbreak."
If confirmed this would be the first case of Ebola in Nigeria, which has a population of 170 million. With its poor health infrastructure and lack of sanitation, the prospect of Ebola reaching Lagos is being taken extremely seriously. The local government has now begun rolling out an emergency response in order to contain the spread of the virus.