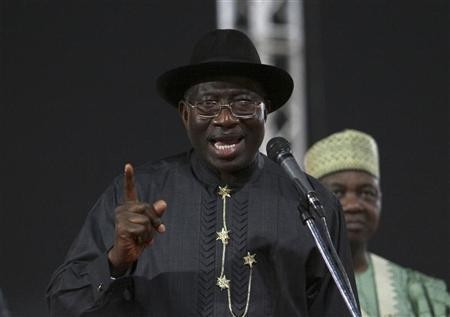 Nigerian President Goodluck Jonathan said on Tuesday that the nation's oil reserves could dry up in 35 years.
Mr Goodluck, who spoke at the opening of a cement factory owned by Larfarge Cement WAPCO in Ogun State, emphasised the need to diversify the economy to reduce the country's dependence on oil.
The president explained: "As a government, our commitment is to make sure that we diversify, we must move away from the mono-culture of depending exclusively on crude oil.
"If the prediction of the experts is true that in about 35 to 45 years' time, if we don't discover oil, our reserve will dry up, then we know that as a nation, we must prepare for our children and grandchildren and that is why we must diversify.
"That's why we must encourage our private sector to go into manufacturing so that even if the oil is dried up, we must have other ways that can sustain our economy and provide jobs for our children and create an enabling environment for people to grow."
Mr Goodluck also revealed that Nigeria will become self-sufficient in the production of cement during the first quarter of 2012. In addition to the development ending years of imports, the country intends to become a net exporter of cement.
"What we are commissioning today has the capacity to employ over 1,000 people and earn over $6 billion (£3.8 billion) in foreign exchange," he said, as he expressed his gratitude to Larfarge and invited other companies, along with investors, in the private sector, to come on board.