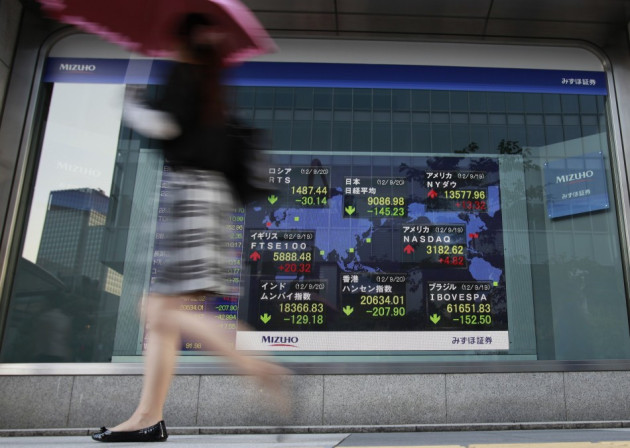 The Nikkei continued its losing streak from the previous week, dropping 0.83 percent or 73.34 points at 8796.82 at 03:59 GMT as major Asian markets remained closed for holidays.
Markets in China and Hong Kong were closed for the mid-autumn festival while the South Korean exchange was shut for the Korean Thanksgiving Day celebrations.
Concerns over the territorial dispute between China and Japan continued to affect Tokyo as shares of major Japanese automobile firms fell. Toyota Motor Corp was down 1.64 percent while Nissan Motors and Honda Motors fell 1.95 and 0.50 percent respectively.
Bank of Japan's Tankan survey showed that the business confidence in the country fell in three months to September, to -3 from -1 from the previous survey as domestic and overseas demand declined.
China's official factory purchasing managers index (PMI) for August released by the National Bureau of Statistics was also weak, raising further concerns on the country's economy. The index rose to 49.8 percent from 49.2 percent in the previous month, remaining below the contraction indicator of 50.
The HSBC PMI released in the previous week had been disappointing as well, showing moderate increase to 47.9 from the flash index of 47.8 and the August figure of 47.6.
"With internal and external demand slowing in the Middle Kingdom, there is only so much the Chinese government can do to revitalise growth ahead of the November leadership changeover," said Justin Harper, market strategist, at IG Markets.
"China clearly can't fight its way out its slowdown alone and needs the superpowers of Europe, the US and Japan to ramp up demand at the same time," he said.
Concerns over the European debt crisis still weigh heavily on investors. Results of an independent stress test on Spain's banking sector released in the previous week showed that lenders required 59.3bn Euros (£694mn) to strengthen their position. The numbers were in line with expectations, but uncertainty over the country's plans to seek external aid keeps traders wary.
Moody's is also expected to release a review of its rating for Spain, which is currently one level above junk grade, with a negative outlook.
The eurozone and US manufacturing data, scheduled to be released early this week, is expected to affect markets as well. But US nonfarm payrolls data, to be released by the end of the week, may make a bigger impact.
Eyes will also be on Greece as it begins talks with lenders over another bailout package to avert bankruptcy and an exit from the eurozone.
The week will see policy meetings from the Reserve Bank of Australia, the European Central Bank, Bank of England and the Bank of Japan.