Bayonetta 2, a remake of Legend of Zelda: Wind Walker, and new Mario Kart, Smash Bros. and Donkey Kong games are all headed to Wii U, Nintendo has announced.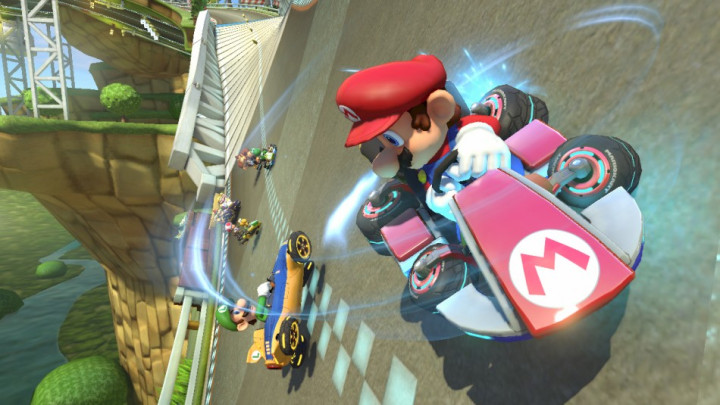 During one of the company's regular Direct presentations, broadcast to coincide with the games trade show E3, Nintendo President Satoru Iwata unveiled several new games intended to shore up the Wii U's game catalogue.
However, despite expectations, Nintendo did not announce a price cut for the Wii U.
Must Read: E3 2013: PlayStation 4 Console Revealed, Will Cost £349
Gameplay for Bayonetta 2 was revealed for the first time, showing a redesigned version of the eponymous Bayonetta battling creatures using swords and guns, similar to the first game. Aside from the new footage, few other details about Bayonetta 2 were provided, though Iwata said the game would launch worldwide in 2014.
The HD remake of Legend of Zelda: Wind Walker, which was hinted at during the last Nintendo Direct, was also shown for the first time. A port of the 2003 Gamecube game, Wind Walker on Wii U will feature improved graphics and allow players to send messages in-game to Nintendo's social network, the Miiverse. It will launch in October, 2013 and be available to download from the Nintendo eShop the same day it hits shelves.
The Legend of Zelda game trailed for the 3DS, provisionally titled "A Link to the Past 2", was also given an official name: The Legend of Zelda: A Link Between Worlds.
Mario Kart 8
Two new Super Smash Bros. games were also revealed, one for the 3DS handheld and one for Wii U. Though few details were offered regarding gameplay, Mega-Man, the iconic Capcom character from the 1980s, will appear in Smash Bros. as a playable character for the first time. Both of the new Smash Bros. games will launch in 2014.
Mario Kart 8, which is due for release in spring, 2014, was also shown off for the first time alongside a new iteration of Donkey Kong Country, which will allow for two-player multiplayer.
As expected, a new Mario game, Super Mario 3D World was also unveiled. A four player co-operative Mario game shot from an isometric view, it lets players partake in various mini-games as well as typical Mario-style platforming.
Iwata called it the "next step forward in the new style of Super Mario action games," revealing it would launch worldwide in December this year and, like Wind Walker, be available to download digitally from day of release.
3DS
Very little time was given to the Nintendo 3DS, though two new Pokemon games for the platform were unveiled: Pokemon Y and Pokemon X. Both will allow players to interact and "play" with their Pokemon using the 3DS stylus and camera, allowing users to stroke their Pokemon or smile at them.
Other titles unveiled for the Wii U included Wii Party U, a sequel to the original Wii Party, and Wii Fit U, the follow-up to Wii Fit. Though both of these were originally slated to launch in the summer, Iwata said that they would both be delayed until the latter part of the year:
"After the Wii U launch, we couldn't release games as smoothly as we would have liked. We appreciate your patience," Iwata said.
Nintendo is also bolstering the line-up of third-party games on the Wii U. Watch Dogs, Splinter Cell Blacklist and Assassin's Creed 4 will all launch on the console at the same time as they do on PlayStation 4 and Xbox One, as well as Batman: Arkham Origins.
As well as Bayonetta 2, Platinum Games is developing a new IP called The Wonderful 101, a hack and slash game where players control a large group of characters and attack enemies by drawing shapes on the screen of the Gamepad controller. The Wonderful 101 will launch 23 August and Nintendo is planning an entire Nintendo Direct dedicated exclusively to the game.
Nintendo is further building on the Gamepad's second screen by creating tabletop-style games that can be played by two people at once using the same controller. Few details were revealed, though a Scaletrix type racing game was shown running on the Gamepad, with two players each controlling their cars using a different analogue stick.
E3 Coverage: