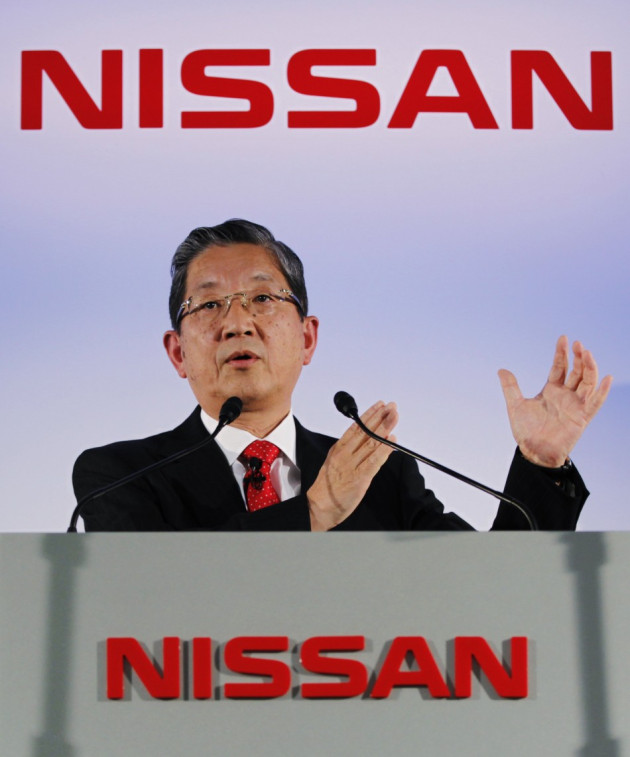 Despite an eight percent increase in quarterly profit, Japanese automaker Nissan Motor has lowered its full-year profit outlook by about 20 percent primarily due to lower sales in China, where customers boycotted Japanese cars over a territorial dispute.
Japan's second-largest carmaker reported a net profit of ¥106bn (£827.3m) for the quarter ending in September, up 7.7 percent year over year. On average, seven analysts polled by Thomson Reuters I/B/E/S expected a profit of ¥91.4bn (£713.3).
Quarterly sales improved 5.5 percent to ¥2.4tn (£18.73bn).
For the fiscal year ending March, the company projects a net income of ¥320bn (£2.5bn), on net revenues of ¥9.82tn (£76.63bn). Previously, the maker of the March subcompact, Leaf electric car and the Infiniti luxury model expected to record a profit of ¥400bn (£3.51bn) on revenues of ¥10.3tn (£80.38bn) for the year.
Yearly sales volumes are expected to decline to 5.08 million units from 5.35 million units due to the volatile market conditions in China and Europe. A strong yen in comparison to the dollar and euro would also negatively affect the full-year results.
In China, which is the biggest market for automobile companies, demand for Nissan vehicles declined as customers boycotted Japanese cars due to a territorial row between the nations over the Senkaku islands. They are controlled by Japan but also claimed by Beijing.
Nissan, part-owned by France's Renault, sells about 27 percent of its vehicles in China. It lowered its 2012 China sales forecast to 1.175 million vehicles from a previous 1.35 million.
The company expects a gradual recovery in the Chinese market. "When you take a look at the Chinese market, showroom traffic on a weekly basis for Nissan local dealers has recovered to about 80 percent of pre-crisis levels," COO Toshiyuki Shiga said. "We're hoping that this will translate into orders."
The company's rival Honda Motor also cut its forecasts for the year by a fifth of its guidance, but another player Toyota Motor raised its forecast with a lower exposure to the Chinese market.
In the US, the company's second-biggest market, Nissan faced production delays in July for its top-selling mid-sized sedan Altima, resulting in a loss of market share in the segment to Toyota's Camry, the Honda Accord, Ford's Fusion, and models from GM, Hyundai Motor and Volkswagen. As a result, its US sales declined 3.2 percent year over year in October to 79,685 vehicles.
Due to supply constraints, Nissan expects to sell 1.175 million vehicles in the US for the year to March, down from the previous estimate of 1.2 million vehicles.
Following the results, Nissan shares declined 2.03 percent to ¥677 (£5.28) on the Tokyo stock exchange.