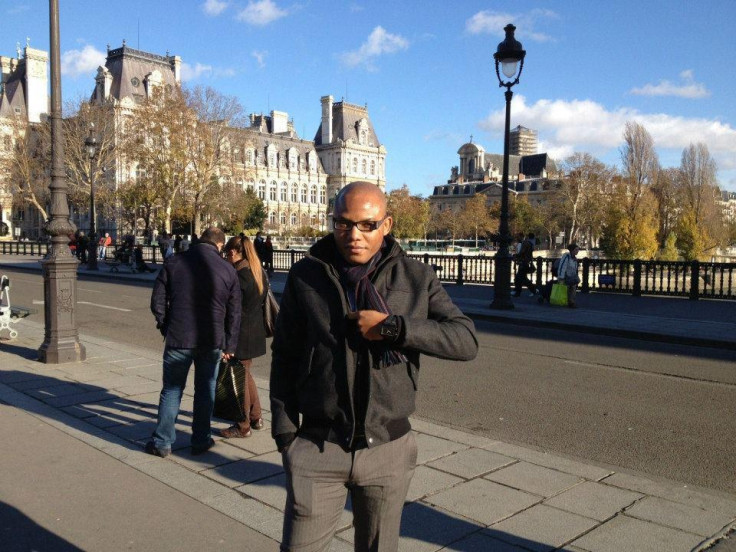 Radio Biafra director Nnamdi Kanu is attending the first hearing of his trial on treasonable felony charges. The trial, at the Federal High Court in the capital Abuja, is presided over by Hon Justice John Tsoho.
Kanu, leader of the Indigenous People of Biafra (Ipob), was arrested by the State Security Service (DSS) in Lagos in October 2015 on conspiracy and terrorism charges that were later dropped.
A day after the Abuja High Court ruled he should be released, officials pressed new treasonable felony charges against him, while President Muhammadu Buhari said Kanu would not be granted bail due to the "atrocities" allegedly committed.
Kanu was kept in DSS custody until Hon Justice John Tsoho ruled that he should be transferred to the Nigeria Prison Service in Kuje, about 40km south-west of Abuja, so that he could be visited by family members.
Kanu and other pro-Biafrans call for the independence of the Biafran territories forcibly annexed to Nigeria during the British colonisation, which ended in 1960. The declaration of the independent Republic of Biafra in 1967 sparked a civil war that resulted in the death of millions and the reannexation of the republic to Nigeria in 1970.
Charges
Kanu - along with Benjamin Madubugwu and David Nwawuisi - has been charged with six counts of treasonable felony after Nigerian autorities accused him of belonging to an unlawful society, using his radio station to levy war against the state, illegally entering Nigeria and bringing "sophisticated weapons". Kanu, his lawyers, family and supporters rejected the allegations.
Speaking to IBTimes UK, Ifeanyi Ejiofor, one of the lawyers representing Kanu, said treasonable felony charges were "empty".
Following the new charges, Justice Ahmed Mohammed refused to hear the trial and was substituted by Tsoho. Meanwhile, Kanu said he was confident he would not receive a fair trial before the Abuja federal court.
Possible sentences
According to Section 41 of the criminal code, a person found guilty of treasonable offences can be sentenced to life imprisonment. If the defendant is acquitted, they cannot be tried for treason related to the same facts.
Section 63 says that a person who manages or assists in the management of an unlawful society is guilty of a felony and is liable to imprisonment for seven years.
According to section 47 of the Customs and Excise Management Act, a person who imports or causes to be imported concealed goods or goods found "not to correspond with the entry delivered thereof" can be sentenced to five years in prison without the option of paying a fine.