Thousands of pro-Biafran supporters are expected to join a "mega protest" across several states in south-eastern Nigeria. The protest will occur in two states, Abia and Enugu, but people from all the eleven states part of the contested Biafran territories are expected to join.
The protest will last from 9 February until 12 February, with demonstrators expected to end their march in Anambra state, a pro-Biafran protester told IBTimes UK.
Demonstrators will call for the independence of the Biafran territories forcibly annexed to Nigeria during the British colonisation, which ended in 1960.
The declaration of the independent Republic of Biafra in 1967 sparked a civil war that resulted in the death of millions and the reannexation of the republic to Nigeria in 1970.
Demonstrators will also call for the release of their leader Nnamdi Kanu, whose trial on treasonable felony charges is set to start in the federal capital of Abuja on 9 February and will end on 12 February.
Kanu, Radio Biafra director and leader of the Indigenous People of Biafra (Ipob), was arrested by the State Security Service (DSS) in Lagos in October 2015 on conspiracy and terrorism charges that were later dropped.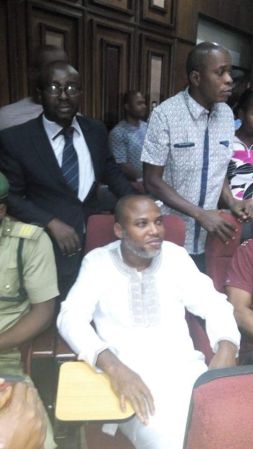 A day after the Abuja High Court ruled he should be released, officials pressed new treasonable felony charges against him, while President Muhammadu Buhari said Kanu would not be granted bail due to the "atrocities" allegedly committed.
Kanu was kept in DSS custody until Hon Justice John Tsoho ruled that he should be transferred to the the Nigeria Prison Service in Kuje, about 40km south-west of Abuja, so that he could be visited by family members.
Tsoho, who ruled against a bail application for Kanu, is to rule on the treasonable felony trial.
IBTimes UK has contacted Ifeanyi Ejiofor, one of the lawyers representing Kanu, for more information about the trial, but has not received a response at the time of publishing.
UPDATE 14:00
Tsoho ruled against the application to release Kanu's "specified items," as requested by the defence. The judge also said Kanu's family and members of the public should be allowed to witness the trial, which has been adjourned to 19 February.
Meanwhile, some protesters alleged police fired teargas at demonstrators in Enugu State.
Nigeria up close: Check out our Flipboard magazine