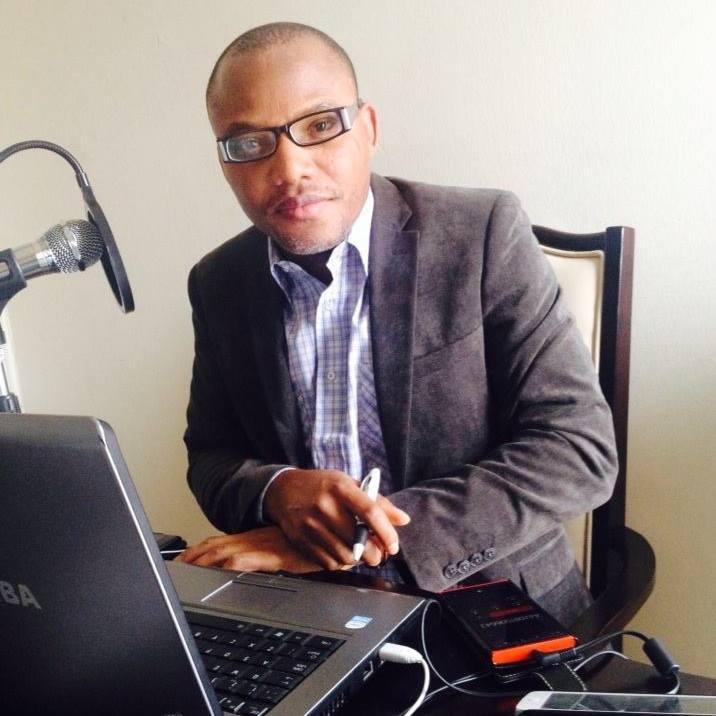 A federal court in Abuja, the capital of Nigeria, has ordered Biafran leader Nnamdi Kanu be remanded in prison while he awaits the trial for treason charges, witnesses told IBTimes UK. Hon Justice John Tsoho made the decision during the hearing on Kanu's bail application on Wednesday 20 January.
Kanu is the director of Radio Biafra and leader of the Indigenous People of Biafra (Ipob). He was arrested by the State Security Service (DSS) in Lagos in October 2015 on conspiracy and terrorism charges that were later dropped. However, a day after the Abuja High Court ruled he should be released, officials pressed new treasonable felony charges against him.
Chuks Muoma (SAN), counsel to Kanu, said his client had been in DSS custody since October 2015 and said he should be sent to prison so that family members can visit him. A representative of the DSS said Kanu should be kept in their custody.
However, Tsoho ruled that Kanu should be sent to the Nigeria Prison Service in Kuje, about 40 km south-west of Abuja.
Speaking to IBTimes UK, Ifeanyi Ejiofor – one of the lawyers representing Kanu – described the day in court as "a very good day". He also added there will be a new hearing on the bail application on 25 January.
Pro-Biafrans' demands and government's position
Pro-Biafrans have been holding several marches calling for the independence of the Biafran territories, forcibly annexed to modern-day Nigeria during the British colonisation.
Protests have increased following Kanu's arrest, amid allegations of police and army violence against unarmed protesters. According to recent reports, between three and eight people were allegedly shot dead in Abia state.
President Muhammadu Buhari's government has always maintained that Nigeria's unity is a priority for the country and that although peaceful pro-Biafran protests are welcome, demanding the breakaway of the Biafran territories is against the constitution.
The Nigerian government told IBTimes UK that it does not consider the separatist movement a threat to the current leadership, and defined pro-Biafrans as an "insignificant number of frustrated people who are not a threat to the existence of Nigeria".
Meanwhile, the high representative for foreign affairs of the European Union, Federica Mogherini, said in an official letter addressing the Biafran issue that self-determination and changes to national borders must be sought in accordance to international law.