Thousands of people have participated in an online poll held by a prominent Nigerian journalist on a possible breakaway of the Biafran territories from Nigeria. International journalist and global community activist Kemi Nkem Omololu-Olunloyo told IBTimes UK she decided to hold the social media referendum to understand what the new generations living in the Biafran territories think.
She explained that about 97% of voters (2,200) – mainly from the Igbo ethnic group – took to Twitter and Facebook to vote in favour of the independence of the Biafran territories, annexed to Nigeria during the British colonisation, ended in 1960.
A total of 154 people voted on Twitter, with 65% (100) of the voters backing a possible breakaway. On Facebook, 95% (nearly 2,100 people out of 2,200) voted in favour of the independence.
"More than 100,000 people saw the Facebook post due to shares," Omololu-Olunloyo said. "I wanted to get a feel of what the new generation of Biafrans are thinking and saying. We are in a modern social media era where Nigerians can speak out more to decision makers."
Among other things, those who voted "yes" motivated their answer by saying people living in the Biafran territories are marginalised by the government and communities are negatively impacted by a lack of infrastructure and employment possibilities.
People who voted "No" said they were in favour of the unity of Nigeria. One Facebook user said: "There is nothing to debate about, it's one NAIJA [a way of referring to Nigeria]. Nothing like Biafra."
Omololu-Olunloyo's initiative came as southeastern Nigeria has been rocked by pro-Biafran protests in which thousands of people call for independence as well as the release of their leader Nnamdi Kanu, arrested in Lagos last October.
Demonstrators and NGOs have accused the police and army of unjustified violence against protesters, with reports often claiming security forces open fire on unarmed people. Speaking to IBTimes UK, the police in Amambra state − where several incidents have been reported over the past few months – denied the allegations, arguing pro-Biafrans disrupt peace in the state.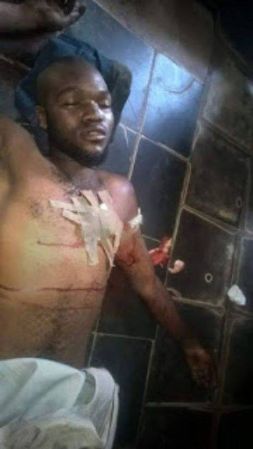 Omololu-Olunloyo said she will use the poll results to engage with the federal government and start a dialogue. She added she did not expect so many people to take part in the voting, as many living in the Biafran territories do not have access to social media.
"If people on the ground did a mock election, it will be a landslide," she said. "Many of those protesters are not on social media."
Poor coverage
Omololu-Olunloyo also accused the international community of failing to pay attention to the increasing calls for independence.
"Look at how Biafrans are tweeting entire world bodies, leaders and even some media, but they are all ignoring them. But Scottish and Catalonia referendums make news," she said and added that coverage of the separatist movement has also been poor in Nigeria.
"Most of our journalists are still afraid to report in depth despite what the President said on his first televised media chat," she said, referring to the fact that Buhari called on journalists to do more investigative work during a media chat held in Abuja in December.
"The main problem is that Nigeria is being ruled time after time by the same dictators in civilian clothing," Omololu-Olunloyo alleged. "One other reason is that the same politicians ruling us own the newspapers, TV and radio stations.
"There can never be fair reporting and we have too much brown envelope journalism where reporters collect cash bribes to write or doctor a story. This is the reason why I'm the only Nigerian journalist seen on all the global cable networks talking about terrorism and openly about the poor leadership here."
Government's position
In a previous interview with IBTimes UK, a government's spokesperson said Nigeria did not consider the separatist movement a threat to the current leadership and defined pro-Biafrans as an "insignificant number of frustrated people who are not a threat to the existence of Nigeria".
In the first reference to the separatist movement after taking office in May, President Muhammadu Buhari said he was not worried. He told reporters during the December media chat: "Why does it have to worry me, when I have militants of all kinds, Boko Haram, etc? The question is, who marginalised them [pro-Biafrans]?"
Speaking of Kanu – who is still being detained by the State Security Service (DSS) despite the Abuja High Court's ruling in favour of his unconditional release – Buhari said: "DSS disobeyed court orders, people got legitimate bails from courts, and they are still being held. It's due to atrocities they committed.
"They go against the country, and you expect them to jump bail? The one we are calling 'Kanu' he has two passports, he brought equipment. Do you know Kanu brought in sophisticated weapons into the country? There's [a] treasonable felony case against him."
Buhari has been criticised for backing the DSS's decision to refuse to release Kanu and former security aide, Sambo Dasuki, in spite of the High Court's rulings.
---
Nigeria up close: Check out our Flipboard magazine
---