Biafra: Nigeria charges Nnamdi Kanu with treasonable felony for using radio 'to levy war'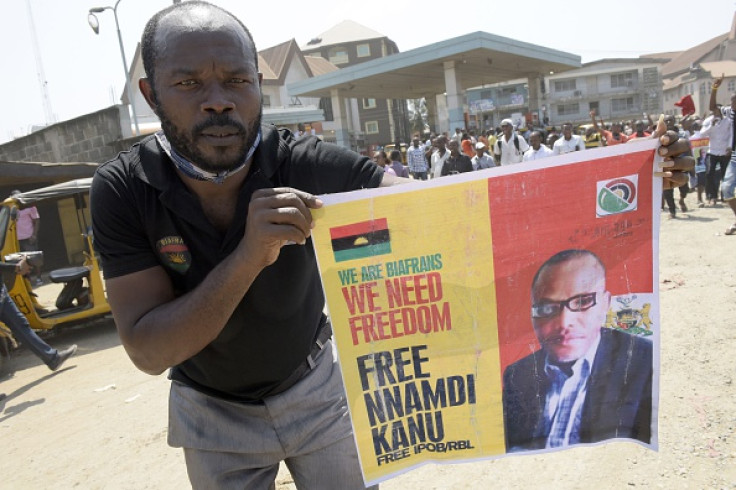 The Nigerian government has charged controversial director of Radio Biafra with treasonable felony days after the federal court of Abuja ruled his detention on terrorism charges was unlawful. Nnamdi Kanu, leader of the Indigenous People of Biafra (Ipob), was arrested by the state security service (DSS) in Lagos in October on charges of criminal conspiracy and belonging to an unlawful organisation.
The DSS later accused Kanu of inciting terrorism. All charges were dropped on 17 December, when the Abuja Federal High Court ruled the detention of the pro-Biafran leader was unlawful.
However, Kanu was not freed following the verdict. One day after the court ruled he should be released, officials pressed new charges against him, according to documents obtained by the Daily Sun.
The same charges were also pressed against David Nwawuisi and Benjamin Madubugwu Onwuka. Nwawuis, an Enugu-based engineer linked to Radio Biafra, was arrested in July. Madubugwu is the leader of the Biafra Zionist Movement and he was arrested in 2014 after trying to carry out an attack on the State Broadcasting Service in Enugu state.
The charge sheet read: "That you, Nnamdi Kanu and other unknown persons, now at large, at Lon- don, United Kingdom, between 2014 and September 2015 with intention to levy war against Nigeria in order to force the President to change his measures of being the President of the Federation, Head of State and Commander-in-Chief of the Armed Forces of the Federation as defined in Section 3 of the Constitution of the Federal Republic of Nigeria 1999 (as amended) by doing an act to wit: Broadcast on Radio Biafra your preparations for the states in the South- East geo-political zone, South-South geo-political zone, the Igala Community of Kogi State and the Idoma/Igede Community of Benue State to secede from the Federal Republic of Nigeria and form themselves into a Republic of Biafra, and thereby committed an offence punishable under Section 41(C) of the Criminal Code Act, CAP C38 Laws of the Federation of Nigeria 2004."
Kanu refused to sign the document with the new charges, according to his brother Prince Emmanuel. Kanu's wife told IBTimes UK she was worried as her husband had not appeared in court at the 17 December ruling.
A source close to IBTimes UK said Kanu was still in Abuja, while reports alleged that he might be transferred to Kaduna state, northwestern Nigeria.
Meanwhile, the Nigerian army has been accused of killing between four and 10 supporters of Kanu who were celebrating the high court verdict on 17 December. Mohammed Ibrahim, Director of Amnesty International Nigeria National Office, told IBTimes UK it investigated the reports but was unable to verify them.
In a previous interview with IBTimes UK, the human right groups said there were fears pro-Biafrans were being persecuted by authorities.
Defence spokesperson Rabe Abubakar did not comment on the alleged shootings. He told IBTimes UK: "The unity of Nigeria is sacrosanct and we are working to maintain one nation. We want to ensure that this country remains one."
© Copyright IBTimes 2023. All rights reserved.