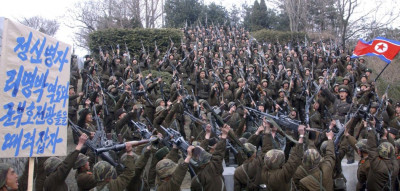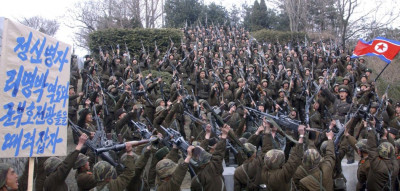 North Korea has threatened a "sacred war" against South Korea.
Footage on KRT state television showed artillery on the North Korea's west coast seemingly pointing towards South Korea's Paekryong Island.
Live firing exercises were carried out two days after tens of thousands of North Koreans rallied in their capital, Pyongyang, and vowed to "wipe out" South Korean president Lee Myung-bak's "traitors".
They accused the South of defaming their new leader, Kim Jong-un, by allowing an army unit to deface his image.
The row erupted when soldiers in Incheon city posted photos of Kim and his late father, Kim Jong-il, with the inscription "Let's kill Kim Jong-un".
"We will turn Seoul into a sea of flames by our strong and cruel artillery firepower," said deputy commander Li Gum-chol.
"We are training hard, concentrating on revenge to shock Lee Myung-bak 's traitorous group and the military warmongers in South Korea."
North and South Korea are technically still at war since the Korean War ended nearly 60 years ago without a peace treaty.