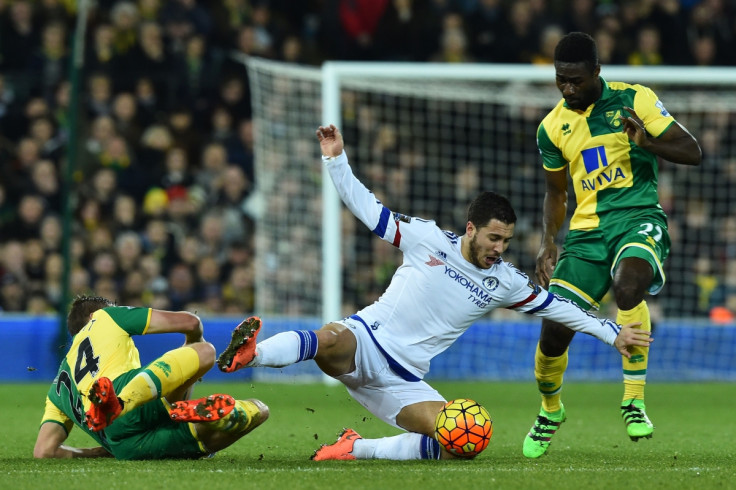 Norwich City midfielder Alex Tettey fears he will need to undergo surgery after injuring his ankle in the defeat to Chelsea on 1 March. Tettey, 29, was replaced by Gary O'Neill after 36 minutes and was later seen leaving Carrow Road on crutches, taken to hospital to undergo an X-ray.
Norwich went on to lose the match 2-1, a result that leaves them slumped in the relegation zone. Speaking to Norwegian publication VG Sporten, the midfielder revealed he had not suffered any broken bones in the challenge, but is now waiting to learn if he suffered any ligament damage. If that is the case, Tettey believes his season is already over.
"I was at the hospital after the game on Tuesday, and I hadn't broken any bones, which is good," Tettey said. "But I'm going for another check-up, an MRI later on Wednesday. If the ligament in my ankle is ruined then I fear I'll need an operation. If that's the case then my season is probably finished. The next check-up will be interesting."
Norwich's night got off to a rotten start when Brazilian youngster Kenedy drilled home after just 39 seconds to score the fastest goal of the Premier League season. After Alex Neil's side lost Tettey, they found themselves two goals down when Diego Costa lifted the ball over John Ruddy. Norwich were right to feel aggrieved with the second goal however, with the Spaniard clearly running onto the ball from an offside position.
Nathan Redmond pulled one back after 68 minutes as they home side fought back, but could not force an equaliser, leaving themselves in the relegation zone with just 10 games of the season to play.