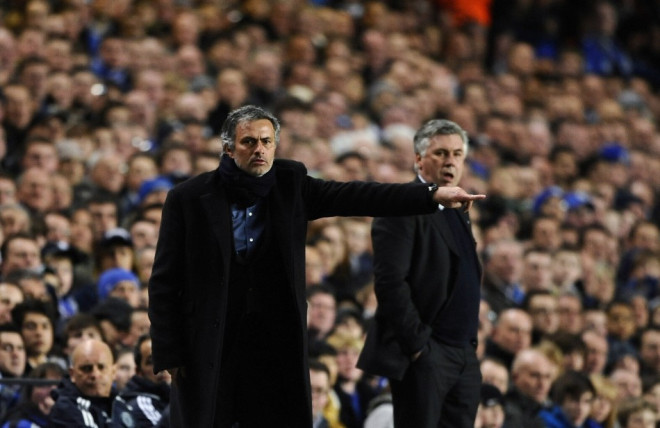 Just eight months after he left Real Madrid, Jose Mourinho's time at the Bernabeu has been almost completely eclipsed by his successor Carlo Ancelotti.
Mourinho, the self-proclaimed 'special one', managed 25 games without defeat during his time at the Bernabeu – the second-longest unbeaten run in Madrid's history, and arguably the stand-out achievement of his three years in charge.
But Ancelotti has already surpassed this, guiding Los Blancos to 26 consecutive games without defeat, including 22 victories.
Mourinho's Annus Mirabilis in Madrid, 2011-2012, saw the team claim 100 points and 121 goals to wrestle the La Liga crown from Barcelona. However this prodigious total is also under threat from Ancelotti's all-stars.
Ancelotti's team currently has 63 points from 25 matches, two points more than Mourinho's had amassed at the same stage two years ago. Furthermore, Madrid have already notched 20 league wins this season, one more than at the same stage in the 2011-12 campaign.
Madrid have scored 71 goals and conceded 24, which gives a balance of +47. With Mourinho, at this stage of the championship, Madrid had scored 55 goals and conceded 19, which gave him a balance of +36.
When Mourinho surpassed Fabio Capello's record of 25 games without defeat, he must have thought his record would stand for years, yet the milestone has already been passed. And given Real's next match is a Champions League fixture against Schalke – a team Mourinho's current side, Chelsea, trounced by an aggregate margin of 6-0 in the group stages – there is every chance that the unbeaten record will be extended.
Now Ancelotti has to beat Leo Beenhakker's record of 34 games (25 wins and nine draws) without defeat in 1988/89 season. If he does so it will be personal vindication for the Italian boss, three years after his unceremonious sacking by Chelsea, the club where Mourinho is so revered.
The records of the two men are remarkably similar; both have managed in London, Madrid and Milan, and claimed two Champions League titles as well as the English and Italian domestic crowns. Given Real's current pre-eminence in La Liga, it is likely that Ancelotti will soon match Mourinho's Spanish championship as well.
Ancelotti, an urbane, modest man, is the antithesis of the bombastic Mourinho. Although he would never boast about surpassing Mourinho, his latest achievement must be a source of immense personal pride.