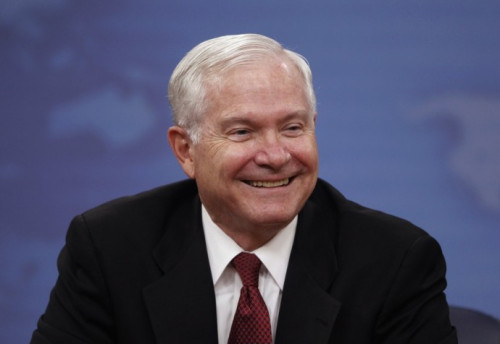 President Barack Obama has been criticised for not fully backing the war in Afghanistan by his former US secretary of defence Robert Gates.
Gates, who was Pentagon chief under Obama and George W Bush, says in Duty: Memoirs of a Secretary of War that the president was sceptical about a positive outcome of his administration's Afghanistan strategy.
Obama, after months of contentious discussion with Gates and other top advisers, deployed 30,000 troops to Afghanistan before partly withdrawing them in 2011.
"I never doubted [his] support for the troops, only his support for their mission," Gates writes.
"All too early in the administration," Gates continues, "suspicion and distrust of senior military officers by senior White House officials, including the president and vice-president became a big problem for me as I tried to manage the relationship between the commander-in-chief and his military leaders".
According to the Washington Post account of the book, Obama was very uncomfortable with inheriting a war started by former President George W. Bush.
"Obama doesn't believe in his own strategy, and doesn't consider the war to be his. For him, it's all about getting out." Mr Gates writes of a March 2011 meeting in the White House.
Towards the end of the book, however, Gates is more conciliatory - some say contradictory - and backs the president for his integrity over his decisions regarding Afghanistan.
Gates also criticises Vice President Biden and many of Obama's top aides.
Reacting to the comments reported in Gates' book, the White House National Security Council said: "Deliberations over our policy on Afghanistan have been widely reported on over the years, and it is well known that the president has been committed to achieving the mission of disrupting, dismantling and defeating al Qaeda, while also ensuring that we have a clear plan for winding down the war, which will end this year."
NSC spokeswoman Caitlin Hayden said in a statement that "[Obama] welcomes differences of view among his national security team, which broaden his options and enhance our policies".
Gates wanted to quit his post at the end of 2010 but agreed to stay on at Obama's urging. He eventually left in 2011.
In his book he writes: "I did not enjoy being secretary of defence".
In an email to a friend while still serving he said: "People have no idea how much I detest this job."