Obama receives plea to help release detained human rights lawyer in Hanoi, ahead of his Vietnam trip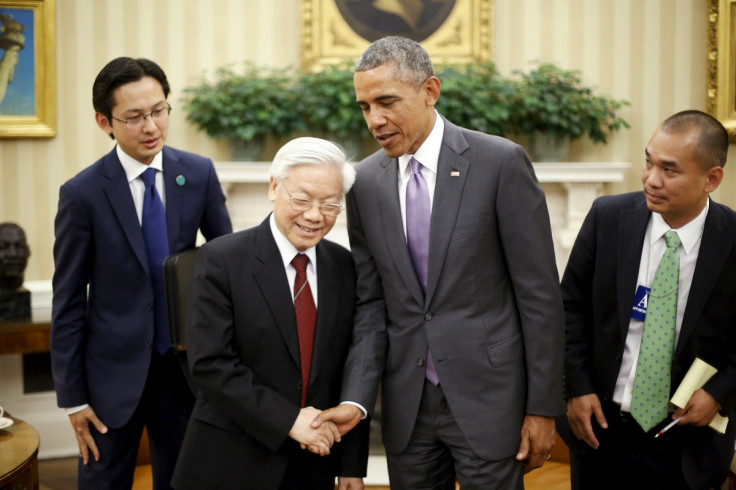 The wife of a Vietnamese human rights lawyer, detained by Hanoi authorities, has appealed to the US for help in getting her husband released when President Barack Obama visits Vietnam. Vu Minh Khanh, who spoke through an interpreter, testified before the Washington House panel on 10 May, hours after the White House confirmed Obama's trip to Vietnam and Japan from 21-28 May.
The US will use the visit to deepen its relations with Vietnam four decades after the end of the 19-year-long Vietnam War.
Two Republican legislators called for Obama to demand the release of the detained lawyer, Nguyen Van Dai, and all other prisoners of conscience, the AP reported.
Vu has said that her husband's release when Obama is in her country would "symbolise the President's support for human rights and democracy in Vietnam," according to the report.
Speaking at the House Panel hearing, Californian Republican Ed Royce said: "The situation is not improving. Human rights have got to be at the top of the President's agenda."
Nguyen, a prominent lawyer and pro-democracy activist, was severely beaten up by a group of masked men before being arrested by two dozen Vietnamese policemen in December 2015 and charged under Article 88 of the country's law on suspicion of conducting propaganda against the state. He has been held before from 2007 to 2015, when he spent four years in prison and another four years under house arrest.
This is not the first time the White House has received a request to address human rights issues in Vietnam. In April, a couple of lawyers and other organisations wrote to the White House to urge Obama to discuss issues and assaults faced by human rights defenders, bloggers, and lawyers in Vietnam.
Although Hanoi denies detaining any activists, it is estimated to have about 100 political prisoners.
Obama's visit to Vietnam will see leaders discuss the importance of approving the Trans-Pacific Partnership, including ways to advance cooperation on the economic front, as well as deliberate on security, human rights and other global and regional issues, the White House has said.
"The administration seems eager to proceed with lucrative trade deals and to lift the ban on lethal arms sales to Vietnam, without imposing any real conditions," New Jersey politician Chris Smith told the House Panel hearing.
The US had earlier embargoed arms sales to Vietnam and later partially lifted the ban, promising to further ease restrictions on the condition Hanoi improves its human rights laws.
© Copyright IBTimes 2023. All rights reserved.