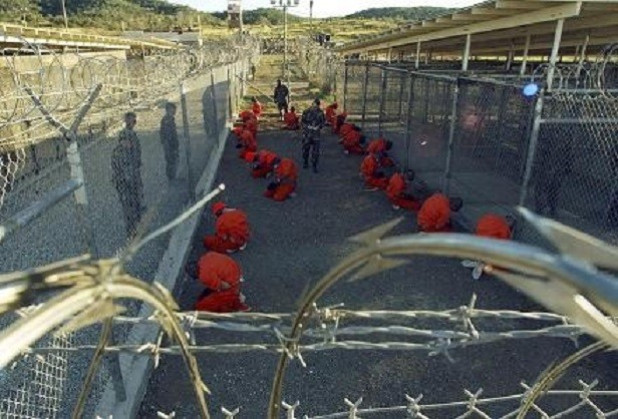 US president Barack Obama has vowed to renew efforts to close the military prison at Guantanamo Bay in Cuba where 100 detainees are on hunger strike.
Obama, who as a candidate for the White House in 2007 promised to close the controversial facility within his first 100 days in office, said that the notion of keeping "100 individuals in a no-man's land in perpetuity [was] contrary to who we are and our interests".
It needed to stop, he said.
"It's not a surprise to me we've got problems at Guantanamo," he said. "That's why I've said and believe we need to close Guantanamo."
Medical reinforcements have been sent to the military prison to help force-feed the inmates who are on strike.
"We will not allow a detainee to starve themselves to death and we will continue to treat each person humanely," said Lt Col Samuel House, Guantanamo spokesman.
The president of the American Medical Association, Dr Jeremy Lazarus, said, however, that any physician who took part in force-feeding violated medical ethics.
"Every competent patient has the right to refuse medical intervention, including life-sustaining interventions," Lazarus said.
Obama said that Guantanamo was a problem that "won't get better, it'll get worse, it'll fester".
It was unnecessary to keep the US safe, he added.
"It's expensive, inefficient. It's a recruitment tool for extremists.
"I don't want these individuals to die," he said of the hunger strikers. "The military is doing the best it can. But we have to ask, why are we doing this?"
The protest at the military prison began in February and grew stronger after a crackdown which confined inmates to their cells. The motive for the protests is disputed but inmates claimed that guards handled Korans in a disrespectful way. There are a total of 166 detainees still held in Guantanamo.
Prisoners were optimistic that the site would be closed, in line with Obama's broken promise, and were devastated when the president went back on his word, according to reports. In January 2011, Obama signed a law that restricted the transfers of prisoners.