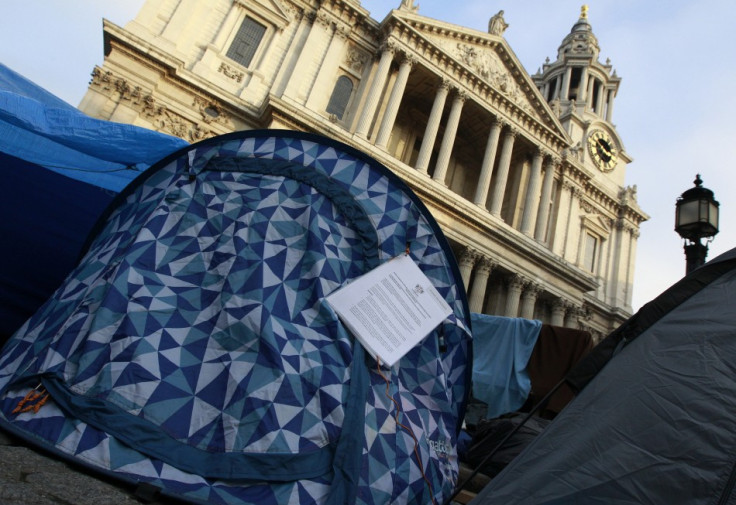 Drug use at the St Paul's protest camp has escalated to the point that local authorities have installed containers for the safe disposal of syringe needles.
The City of London Corporation has said that "sharp bins" have been put in place at the site after police found drug paraphernalia, including needles, littered around the area.
The site has also been desecrated by vandalism and human waste since anti-capitalism protesters started camping outside St Paul's on 15 Oct. The battle to evict the protest camp will begin on 19 Dec.
The corporation, the local authority which runs the Square Mile, has expressed its concern over the site, describing it as a "health hazard" and "a magnet for very vulnerable people", including those with HIV or attracted by the free food and shelter.
Some protesters have denied that the corporation was forced to install the "sharp bins", claiming that they had provided their own.
Protesters have admitted that there are a few people infected with HIV who are living in the tent city.
"Some of the most worrying issues revolve around vulnerable people, health and hygiene. Clearly, discarded syringes are a hazard for everyone. That is why we have installed the boxes to help manage the problem," a spokesperson for the corporation told the Evening Standard.
In court papers filed by the corporation, it was also reported that the amount of urination and defecation around the cathedral is now a "major issue", with protesters using one alley as a lavatory.
Police had received complaints from the cathedral about "members of the camp continually urinating through the fence of the Chapter House and the Cathedral itself".
On one occasion, it was reported that "a member of the camp had urinated through the window of the Crypt Restaurant".
The eviction of the protest camp will begin on 19 Dec after the corporation warned that a delay in legal proceedings would "prolong significant harm to the public interest".
The protesters rejected a previous offer to clear the "public highway" where some tents are pitched by 6pm on 17 Nov. Instead, they tore down eviction notices from their tents and vowed they would stay and fight a legal battle.
"The City is not bringing these claims to protect the banks, nor to prevent peaceful protest against the financial sector, nor to stymie freedom of speech," David Forsdick QC, counsel for the corporation, told the judge in a conference at the High Court to begin the eviction process.
"It is a pressing social need in order to protect the rights and freedoms of others. The City's position is: Peaceful protest? Yes. Permanent encampment? No."
The trial is expected to last four days, although an eviction is unlikely to take place during the festive season due to the difficulty of finding a bailiff at that time of year.