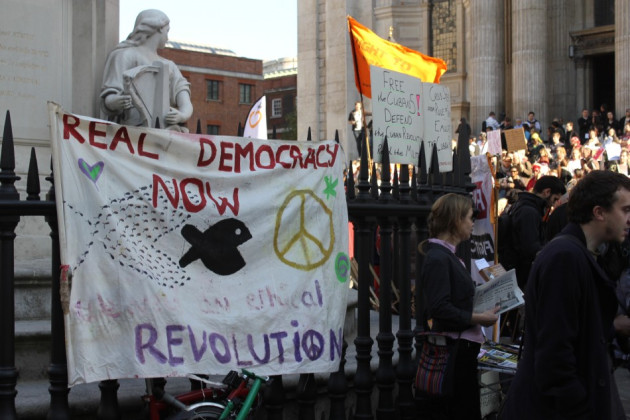 Offering a direct look into the minds of the protesters, the Occupy London protest has launched a new tour service, offering guided tours of London's financial centres.
Imaginatively titled "Occupy London Tours," the new service will offer anyone willing to listen a guided tour carried out by the protesters of London's financial centres. The first tour is set to happen Tuesday, beginning at the now defunct investment bank, Lehman Brothers, 25 Bank Street building the tour will reportedly continue "round Canary Wharf."
In its statement the group's Web site went on to promise that it did plan to carry on the tour service, expanding it to include guided tours of the City of London and hedge funds in Mayfair.
A part of the ongoing Occupy movement sweeping the globe, the Occupy London protest began earlier in October just outside St. Paul's Cathedral. During its opening hours, while no exact numbers have been reported, IBTimes reporters at the scene estimated the protesters' numbers to be in the low thousands, though now conflicting reports have pegged the actual amount as being in the low hundreds.
The protesters had originally planned to move from St. Paul's and camp in Paternoster Square. However, during the protest's opening day police, both mounted and on foot, blocked protesters' path to their intended cap site.
Rather than break-up the protest, the police tactics led to protesters setting camp just outside the steps of St. Paul's.
The campsite led to the extended closure of St. Paul's and tensions between cathedral staff and protesters. Adding to the protest's infamy, the movements location outside St. Paul's eventually led Dr Giles Fraser to step down from his role as canon chancellor to protest the cathedral and police's attitude towards the protesters.
Though the encampment is full of various groups, each with their own agenda, the movement has created its own "evolving" manifesto," which contains a strong anti-capitalist tone.