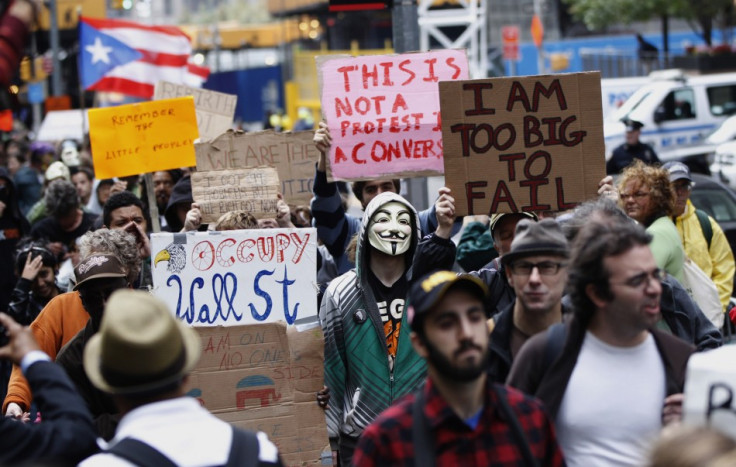 As Occupy Wall Street protesters continue to refuse the NYPS's warnings to vacate Zuccotti Park, analysts have questioned how long, given the past reports of police brutality against OWS protesters, the NYPD will remain peaceful.
The tensions began Thursday when police posted a statement notifying Occupy Wall Street participants that they planned to clean the site of the protests at 7am Friday.
The protesters were immediately hostile to the idea of leaving the park site, viewing the planned clean-up as a pretext for permanent eviction.
The protesters' suspicions were later given credence when the NYPD added the caveat that once the park was cleaned, the police would begin enforcing its previously ignored anti-camping rules.
Tensions mounted further when at 7 am the protesters remained camped within the park. In the face of the protesters' mass numbers, the NYPD subsequently put the "clean-up" on hold.
Reports have since emerged suggesting the NYPD is simply biding its time and that riot police are currently en-route to the park.
Past Violence
Since the Occupy Wall Street protest began in September numerous reports have suggested that U.S. law enforcement resorted to using disproportionately violent tactics against the protesters.
The first slew of incidents began just days after the protest started. One of the most high-profile incidents saw a New York police officer caught on video using pepper spray on a group of seemingly peaceful female protesters.
More recently, a number of reports emerged from the Occupy movements Boston protest, again indicating a use of disproportionate force by police against protesters.
The accusations were initially made by the Anonymous collective via a series of tweets on its AnonOps Twitter feed.
"Boston Police were also arresting the Veterans for Peace group. Police violence against them has been reported http://goo.gl/aj94g," read Anonymous' first tweet. "#OccupyBoston Police beat war veterans, 100 arrested. PHOTO GALLERY >> ."
Anonymous' claims came alongside a series of photos released on the AnonOps web site showing the initial Boston arrests.
The numerous reports of police brutality have since led to widespread speculation, that should the protesters continue to refuse to budge, the police may take more drastic, potentially violent, measures.