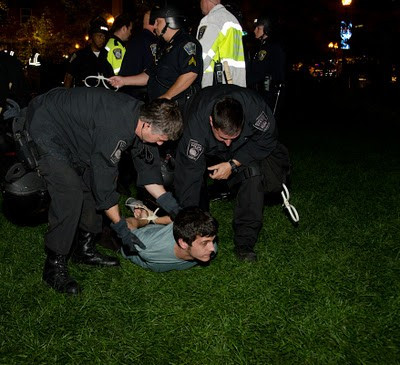 New York police are attempting to forcibly evict Occupy Wall Street protesters just days before the protest was set to become a world revolution.
News broke Thursday that Mayor Bloomberg and the NYPD had notified Occupy Wall Street participants that they planned to clean the site of the Wall Street protests at 7 a.m. Friday.
Following the initial warning, the authorities reportedly added the caveat that once the park was cleaned, sleeping bags and tents would be banned -- meaning the protesters would no longer be able to camp in the park.
"People will have to remove all their belongings and leave the park," commented New York City Police Commissioner Ray Kelly on the "clean-up." "After it's cleaned, they'll be able to come back. But they won't be able to bring back the gear. The sleeping bags, that sort of thing, will not be able to be brought back into the park."
The news comes just two days before the Occupy series of protests were set to go global on 15 October.