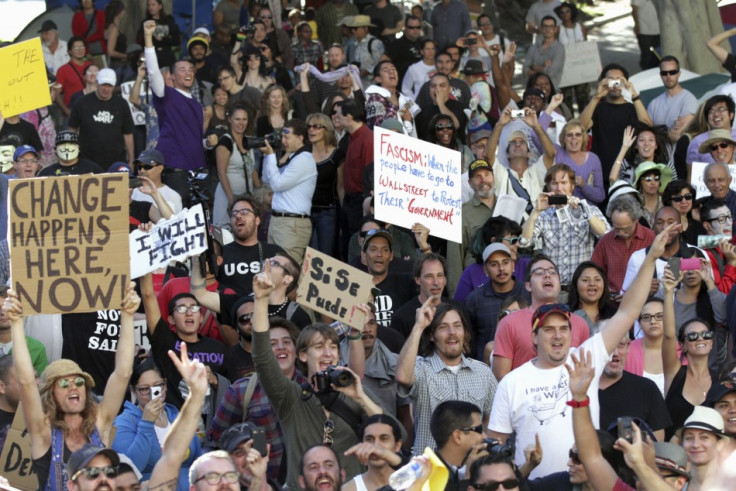 Occupy Wall Street protesters have won a key victory over New York law enforcement, stalling the city officials plans to evict them from Zuccotti Park.
Just before dawn Friday, the owner of Zuccotti Park in Lower Manhattan postponed a plan to evict the Occupy Wall Street protesters from the park in order to clean it, averting a looming clash between authorities and hundreds of protesters thronging the park.
The news follows a widespread call-to-arms to halt police's plans to use "cleaning the park" as a pretext for eviction.
Shortly after 6:30, a speaker announced that he had a "brief statement" from Deputy Mayor for Operations Cas Holloway. He was quickly drowned out by an eruption of cheering and applause, following by a reverbertating chant of "The people, united, will never be defeated!"
News of the planned cleaning broke Thursday when the NYPD notified Occupy Wall Street participants that they planned to clean the site of the Wall Street protests at 7am Friday.
Following the initial warning, the authorities reportedly added the caveat that once the park was cleaned, sleeping bags and tents would be banned -- meaning the protesters would no longer be able to camp in the park.
"People will have to remove all their belongings and leave the park," commented New York City Police Commissioner Ray Kelly on the "clean-up". "After it's cleaned, they'll be able to come back. But they won't be able to bring back the gear. The sleeping bags, that sort of thing, will not be able to be brought back into the park."
The no camping rules did exist prior to Occupy Wall Street, but once the protest began had been widely unenforced by the police.
Video footage streaming from the protest's media team suggested that the decision to stall the cleaning was born from the police's inability to safely re-locate the number of protesters refusing to heed their warnings.
Since the "eviction" plans were revealed, the protest has taken a new direction with participants pulling-together and cleaning the park themselves.
The NYPD stalled the clean-up Brookfield Properties -- the company that owns the park -- issued a statement confirming it hoped to "work out an arrangement with the protesters that will ensure the park remains clean, safe [and] available for public use".
The "victory" comes just one day before the Occupy movement is set to go global. In the UK the Occupy the London Exchange is set to begin at midday on 14 October. Reports suggest that over 6000 individuals have already confirmed their involvement in the protest.
A video feed showing the Occupy Wall Street protest can be viewed here.