The much sought-after Oculus Rift virtual reality headset is not expected to hit UK shops until at least July. However, for eager early-adopters willing to part with double the retail price, consumer versions (CVs) of the device have already started to appear on eBay.
At the time of writing, the popular marketplace has seven active listings for the Rift CV1 that comes bundled with the headset, sensor, remote, controller and two games. The catch, as expected, is the price. While the retail version of the Rift in the UK is £499, the device is being touted online for more than double that. When you take into consideration that an extremely high-end PC is needed to even begin using the headset it quickly becomes a hefty financial investment.
Yet people are bidding – which no doubt will be a promising initial sign Oculus, which is owned by Facebook and will soon compete with the HTC Vive and PlayStation VR headsets. While some optimistic sellers have placed 'Buy It Now' prices of up to £1,200 on their Rifts (once they arrive in the coming weeks), those letting their headsets sell via a regular auction have already attracted bids of over £800 with two days of bidding to go.
Meanwhile, older Oculus development kits are also listed on eBay, currently going for between £200 and £400.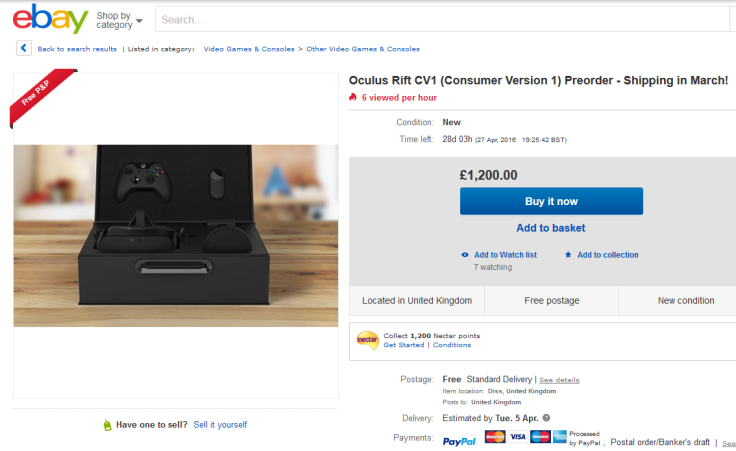 "Pre-order for the Oculus Rift CV1 displayed [with] an estimated shipping date of April. Unfortunately my PC is not quite powerful enough [to make it work]. But this gives you a great chance to get your hands on one of the first Rifts in the country," wrote one seller.

The listings are for pre-orders which means the seller is not yet in possession of the device but promises to ship straight to the buyer once their Rift arrives – which eBay allows as long as the seller follows a set of strict guidelines. As we have previously reported, initial reviews for the Oculus have been largely positive. The Rift is not the only VR headset that will soon be aiming to woo the UK marketplace. In 2016 alone, it will have to contend for dominance with the HTC Vive (£689) and the PlayStation VR (349). Meanwhile, the £80 Samsung Gear VR (which requires an expensive Samsung phone to work) sits at the lower end of the market.