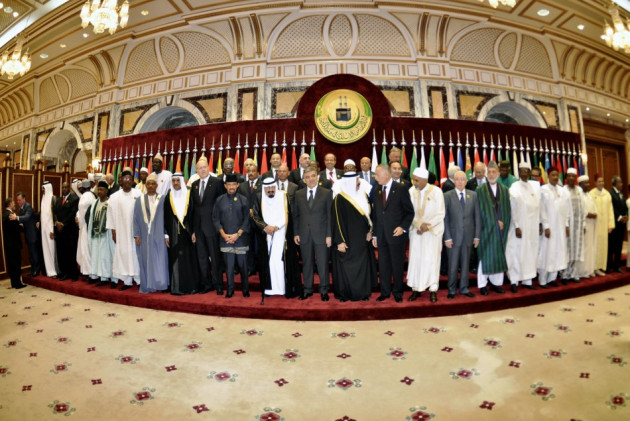 The Organisation of Islamic Cooperation (OIC) has suspended Syria from its membership, citing inhuman acts of violence by President Bashar al-Assad against the rebels who oppose him.
"The conference decides to suspend the Syrian Arab Republic membership in the OIC and all its subsidiary organs, specialised and affiliated institutions," an OIC closing statement said.
The final statement also expressed "deep concern at the massacres and inhuman acts suffered by the Syrian people."
The 57-member Islamic body, which met in the Saudi holy city of Mecca, termed the move a "strong message" to Syria and said the participants have agreed on the need to end the wave of violence across the country immediately.
"This world can no longer accept a regime that massacres its people using planes, tanks and heavy artillery," OIC secretary general Ekmeleddin Ihsanoglu said.
Ihsanoglu termed the OIC decision as "a message to the international community ... that the Islamic community stands with a politically peaceful solution and does not want any more bloodshed," ruling out any scope for military intervention.
Reaction
Iranian President Mahmoud Ahmadinejad was present at the OIC meeting, which was presided over by Saudi Arabia's King Abdullah.
After the meeting, Ahmadinejad made it clear that he did not support the ostracisation of Syria, telling Press TV that "I was surprised in this summit [to see] that the kings of some countries were speaking against Syria, while the majority of their own people do not want them [to rule]."
However, a source close to the meeting told AFP that Iran gave only a "soft reaction" when the decision to suspend Syria's membership was made. Another diplomat said that "there has been a clear change in the Iranian position towards Syria".
Meanwhile, the OIC decision has received a positive response from the US. State Department spokesperson Victoria Nuland told reporters:
"Today's action underscores the Assad regime's increasing international isolation and the widespread support for the Syrian people, and their struggle for a democratic state that represents their aspirations and respects their human rights."
Fighting continues in Syria
Syria's suspension from the OIC follows its earlier banishment from the Cairo-headquartered Arab League, which was announced in 2011.
The country reacted to its suspension by saying that the decision would not adversely affect its political and economic structures.
However, fighting continues to rage across Syria. At least 23 people have been killed and over 200 injured in a double airstrike on the town of Azaz, some 30 miles north of Aleppo, according to the Britain-based Syrian Observatory for Human Rights.