Crude oil prices are on course to log their first weekly-loss in three weeks amid rumours that oil output from Iraq, Opec's second-largest crude producer, will not be hit by the ongoing Sunni insurgency in that country.
Brent August contract was trading at $113.34 a barrel at 11:17 BST in London.
WTI August contract was trading at $105.48 a barrel in electronic trading in New York.
Both contracts are down 1.3% since 20 June.
Commerzbank Corporates & Markets said in a note to clients: "The oil market appears to be gradually pricing out the fear premium associated with Iraq again. Brent is trading at $113 per barrel this morning and has thus shed nearly $3 from the 9½-month high it achieved last week.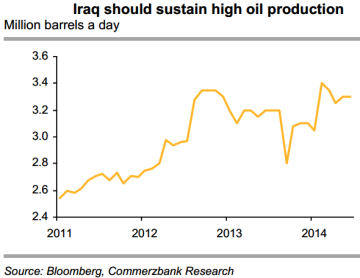 "Increasingly, investors are convinced that the fighting in the north of Iraq will have no impact on the oil supply in the south. There are also signs from the north that give rise to hopes that the oil supply there might soon return to the market. For example, the regional government in Kurdistan intends very soon to double oil exports to 250,000 barrels per day."
"By year's end, an export volume of 400,000 barrels per day is targeted. Oil production is also recovering slowly in Libya: now that a smaller oil field in the west of the country has gone back into operation and a smaller export terminal in the east has reopened, Libyan oil production has climbed to 300,000 barrels per day. All of this points to a continuation of the moderate downturn in the Brent price.
"That said, the continuing tail risks of disruptions to supply in Iraq argue against any sharper price fall, meaning that the price is likely to remain above $110 per barrel. WTI dropped to a two-week low of $105 per barrel [on 26 June]. Speculation about a relaxation of the crude oil export ban in the US, which drove the WTI price up for a while this week, already appears to be abating again. What is more, we do not expect any decision to be taken on this matter before the congressional elections in November," Commerzbank added.
Commerzbank Corporates & Markets said in a separate note: "Against the backdrop of continued fighting in Iraq, the price of Brent oil should stay well above $110 per barrel for the time being. That said, new estimates of [Opec] production are likely to confirm that oil production in Iraq has not been affected by the advance of the Sunni terror group in northern and western Iraq.
"The oil market therefore remains in plentiful supply. Furthermore, as we do not expect significant outages in the south of the country in the medium-term either, the oil price should surrender its gains again in the coming weeks."