An 80-year-old Islamic State (Isis) fighter has appeared in a propaganda video explaining why he left China to fight for the terrorist group in Iraq and Syria.
Muhammed Amin, who appears to be a member of China's Muslim Uighur minority which live in the eastern province of Xinjiang, is interviewed by another IS member in a green field somewhere inside IS-controlled territory in Syria.
In a video of typically high quality production for the terrorist group, supplied by TRAC Terrorism, Amin explains that he joined IS after his son was killed fighting in Syria. He moved to the self-declared Islamic Caliphate with his daughter, four grandsons and his wife, he says.
"I was subjected to oppression [...] at the hands of the Chinese [...] for 60 years and when I saw my son killed alongside the mujahidin [...] in a video I resolved to make Hijrah," he says, using the Arabic term for the journey of the Prophet Mohammed to Medina in 622AD, when Mohammed and his followers fled persecution in Mecca.
It is not clear from the video where in Xinjiang Amin and his family lived or how they got to Syria, but he describes the journey as very hard. He says that he was enrolled in a training camp when he arrived but was not given permission to fight.
But he describes proudly how he is now able to walk more than two kilometres and is later seen sitting behind a heavy artillery position and marching in full combat gear through a grassy field. He is interviewed sitting on sandbags and surrounded by weapons.
Later, the video shifts to a classroom, where Uighur children in balaclavas and military fatigues are interviewed on camera about their journey to the Islamic State.
In a chilling piece to camera, a young Uighur boy sings an Arabic song praising martyrdom, while his class-mate shouts a warning to the Chinese authorities.
"O Chinese kuffar, know that we are preparing in the land of the Khalifah and we will come to you and raise this flag in Turkestan," using the term for China's Xinjiang region that is used by Uighur separatists. Turkestan is also a region in Kazakhstan, but the reference to the Chinese implies that both Amin and the child are referring to China.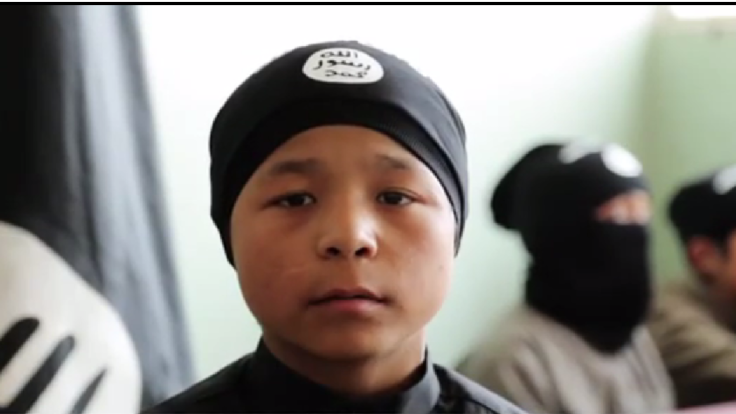 Finally the video shifts to an Islamic State hospital, where Uighur doctors in scrubs are seen performing what appears to be an operation and speaking about their experiences.
The Chinese authorities have long claimed that Chinese Uighurs are joining the Islamic State and a number have appeared in recent propaganda videos. China has seen a spate of terrorist attacks carried out by Uighur radicals in China, prompting a heavy-handed response by the Chinese authorities.
Uighurs, for their part, complain that for all but a small minority of radicals their opposition to the Chinese government is a response to widespread human rights abuses and crackdowns on freedom of worship, something that is supported by a number of NGOs.
---
The Terrorism Research & Analysis Consortium (TRAC) is one of the world's largest electronic compendiums for data and analysis of terrorist groups, activities, trends and up to date developments. By subscription, TRAC serves corporations, governments and military, universities, the media, and professionals. For complete information see www.tracingterrorism.org