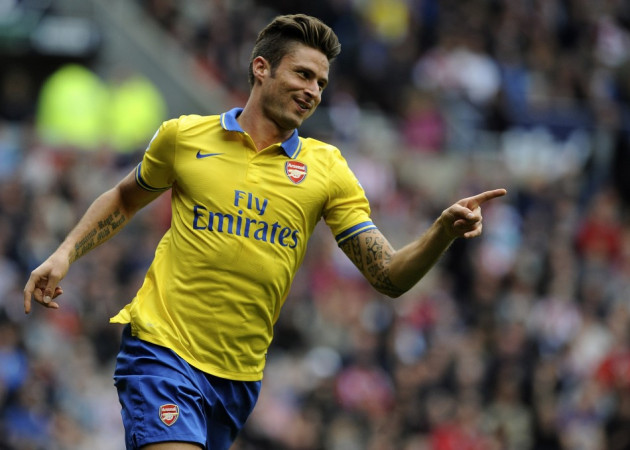 Former Arsenal winger Perry Groves says Olivier Giroud is not ready to be compared to Gonzalo Higuain or Luis Suarez, strikers who the Gunners missed out on signing in the summer transfer window.
Higuain eventually join Napoli, the north Londoners' Champions League opponents, while Suarez remained at Liverpool and made his return from a 10-match ban during last week's League Cup defeat to Manchester United.
With Arsene Wenger eventually settling on making Mesut Ozil, the German playmaker, his marque addition in the summer, Giroud has been intrusted with leading the line in the Premier League and Champions League, with his four goals and two assists in nine games earning praise from his manager.
But Groves, who played for Arsenal from 1986-1992 and made over 100 appearances for the club, says too much pressure is being heaped on Giroud whose early success with the club reminds him of Alan Smith.
"Giroud has improved immeasurably," he told talkSPORT.
"He did OK last season, he got his 17 goals and led the line very well and he has improved by about 20% but he's not in the company of Higuain and Suarez because he's not done it on a consistent basis.
"He reminds me very much actually of Alan Smith. When Alan first went to Arsenal he had a quite first season where he got his 16, 17 goals, took his time to bed in, then was sensational in the two title-winning seasons. He improved immeasurably season after season.
"If you look at Giroud at the moment he's very good at everything. He's good at holding it up, good in the air, he's got decent pace, his finishing is good. If he keeps improving and he does it over a whole season then Arsenal will have a point.
"But you don't want to put your players under too pressure. He would probably like it if he could go along his business quite quietly."
Nicklas Bendtner is the only remaining first team striker available to Wenger, meaning the pressure on Giroud to perform and stay fit swells by the game.
The French international will lead the line when Napoli visit the Emirates Stadium in the Champions League and Wengher is relying on him to produce.
"Olivier Giroud always had a better second season everywhere he played than the first one," said Wenger.
"For him, the jump from Montpellier to Arsenal was quite big. In the first season, it is always quite difficult.
"He is already one of the leading strikers in Europe. Will he improve, be better in all the aspects of his game? As long as all the aspects are there, the attitude is there as well, then at 27 you always think the best years are coming for him now.
"I am hoping he can make his mark in the Champions League. If the team performance is good, then I am sure that he will."