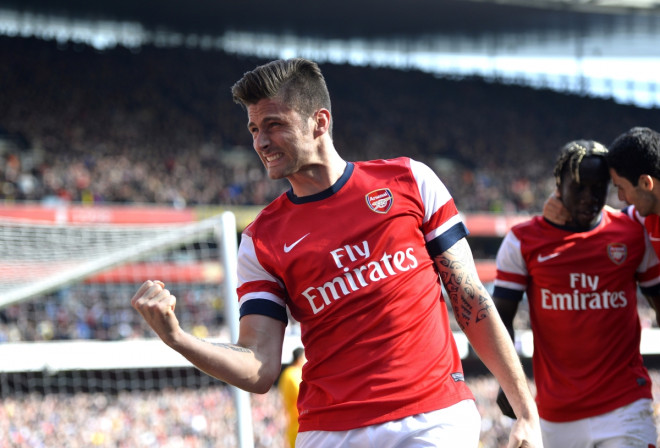 Olivier Giroud has handed Arsenal a massive boost after the striker admitted he is happy at the Emirates.
The 27-year-old was reportedly urged to leave England by the player's wife and return to France. Last week, the Gunners' manager Arsene Wenger also denied reports that Giroud will leave the club in the summer.
Giroud echoed comments made by Wenger and has put the rumours surrounding his future to bed and expressed his desire to continue at north London beyond this season.
"Of course I'll stay, I'm happy here in London. I have a contract until 2016 and that is what I want. You should not listen to the media," Goal.com quoted Giroud as saying.
The France international has scored 14 goals and managed seven assists in 33 league appearances this season. He was substituted in the second half during Arsenal's 3-0 away victory over Hull City on Sunday.
The Gunners are fourth in the league table with 70 points from 35 games, leading fifth place Everton by a point. Meanwhile, the Emirates club have also qualified for the FA Cup final, where they take on Hull at Wembley.
Giroud has admitted the club's main focus will be on qualifying for the Champions League next season. The French striker has also set his sights on winning his first silverware as Arsenal player by winning the FA Cup this season.
"It's better now [at Arsenal]. We are looking for the last four [three] games with much more serenity," the France international stressed.
"The main objective is to finish fourth. It's been 17 years that the team qualifies for the Champions League, I don't want to be in the generation that misses it. Champions League is vital for the club."
"The FA Cup final is also an important trophy for the fans, they have been waiting for a trophy for a long time," he added.
Arsenal are without silverware for close to a decade and winning the FA Cup this season would see them end their trophy drought.