Olivier Giroud will ask Arsene Wenger to allow him to leave Arsenal in the January transfer window should the right offer come along, the striker's agent has said.
The Frenchman has started just one Premier League game this season and is understood to be unhappy with a lack of game time at the Emirates, despite starting every game in the Europa League and the Carabao Cup.
The 31-year-old, who has made 251 appearances for the Gunners since joining from Montpellier in the summer of 2012, has scored just seven goals in all competitions this season and fears a lack of first team football could jeopardise his chances of being named in France's World Cup squad.
The Les Blues assistant coach, Guy Stephan, has implored Giroud to consider his future in January, if he continues to remain an option from the bench rather than a starter.
To complicate matters, the striker's direct rival for a starting spot for the national side is his club's teammate Alexandre Lacazette, whose arrival at the Emirates last summer saw Giroud relegated to the bench.
The France international has attracted interest from a number of clubs but Arsene Wenger has repeatedly insisted he does intend to weaken his squad in January. However, Giroud's agent, Michael Manuello, suggested his client might approach the subject with his manager again, provided the right opportunity arrives next month.
"There will be approaches," Manuello told French website footmercato.net, as quoted by ESPN.
"All those clubs looking for a striker are likely to come in for him. We have to be careful, and if there is something clear that presents itself, we'll try to convince Arsene to go back on what he said."
Earlier this month, the Arsenal manager ruled out the possibility of Giroud being allowed to leave Arsenal on loan in the January transfer window, saying the striker remained central to his plans.
"He is important - why should we lose an important player? It is up to us [and not Giroud]," Wenger was quoted as saying by Sky Sports.
"He will start more games. I believe as well it's always the same when you have many good players, some of them cannot play."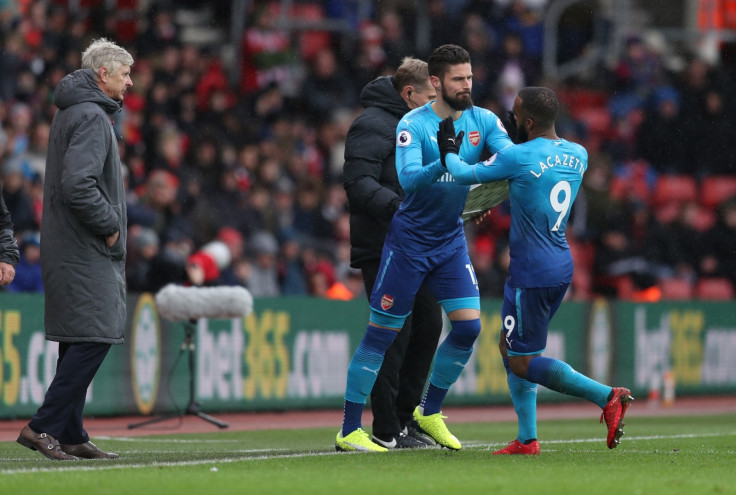 Manuello admitted Wenger's stance would in all likelihood affect Giroud's future, but insisted his client, who turned down a number of opportunities in the summer to commit his future to the club, would not look to create unnecessary conflict with the manager.
"[Wenger's attitude] can make things complicated," he explained.
"But a conflict, that's not the kind of thing that's in Olivier's nature, nor in mine. We always work in harmony. It's normal Arsene states his position publicly. It's completely normal. We don't need to comment on that actually. Now, according to the projects that come in, we'll sit down around a table and talk.
"The most important thing is to know what is going to be offered or not this winter in order to find the best playing project. Having said that, that project has to be offered."