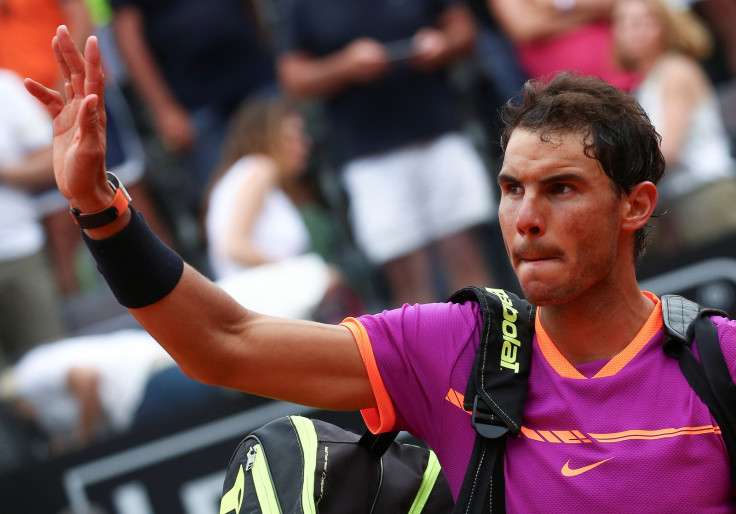 Rafael Nadal's 17-match winning streak on clay was ended by Dominic Thiem on Friday (19 May) and with it the Spaniard lost his chance to move ahead of Stan Wawrinka to number three in the world.
The Spaniard had won the last three tournaments in Monte Carlo, Barcelona and Madrid and was the favourite to win the ongoing Rome Masters. However, he succumbed to Thiem 6-4, 6-3 in the quarter-finals. It was third time lucky for the Austrian, who had lost to Nadal in the finals in Barcelona and Madrid.
Thiem changed his tactic against Nadal after losing the last two encounters this year and started the match aggressively. He went for winners from the beginning and did not miss a lot. Nadal admitted that he was not at his best and was not too harsh on himself after the loss.
The 14-time men's singles Grand Slam champion admitted that after playing back-to-back for the last three weeks, there was bound to be a point when he was not at his best. He is ready to put the loss behind him and concentrate on his preparations for the second Grand Slam of the year at Roland Garros, where he will again start the tournament as the favourite.
"He played very aggressive, hitting the ball very strong," Nadal was quoted as saying by Tennis World USA after his loss. "He played very long. He didn't miss a lot. Played high intensity. Yeah, so in general I was not able to push him back. He had the control of the points much more times than me. That's the key of this game."
"It's obvious that I did not play my best match. I have been playing a lot, so is not easy, no, after playing almost every day for the last four weeks, no? Is normal that one day you don't feel not perfect. So then tomorrow I will be in Mallorca fishing or playing golf or doing another thing (laughter). That's it. I'm going to rest a little bit that I think I deserve, and then I going to start probably Monday/Tuesday to prepare Roland Garros, try to be best preparation possible during that week before. Is important event for me, obviously," the world number four added.