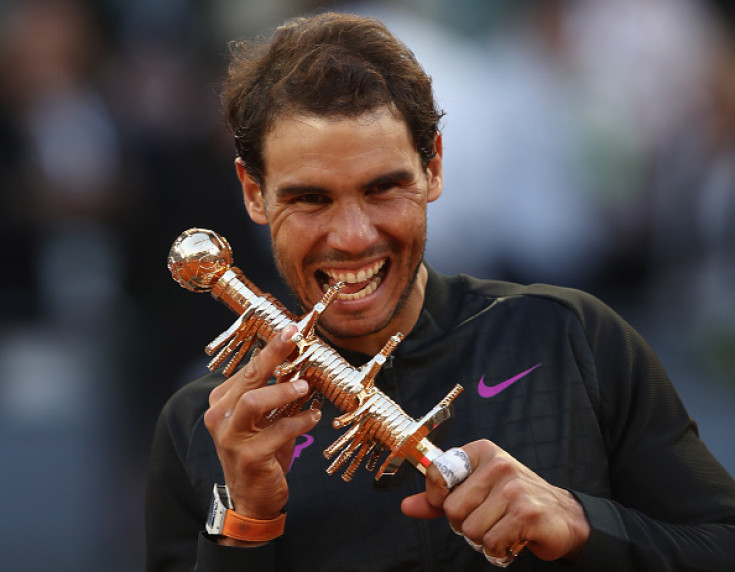 Rafael Nadal defeated Dominic Thiem 7-6, 6-4 to win the Mutua Madrid Open on Sunday (14 May) at Manolo Santana.
In what was a rematch of the final in Barcelona, Nadal was given a much harder task from the Austrian with the first set going into a one-hour-and-18-minute tie-break.
However, the Spaniard was able to come through with the win after breaking Thiem early on in the second set.
"The truth is I was up against an opponent who, in the next five to 10 years, will be fighting for the most important titles, so I'm very happy to have won," Nadal said, as quoted on BBC. "It was a very exciting game."
"It was a very important final for both of us, for him as it was the first in the Masters 1000, and for me it's always special to play here in Madrid, in this unique tournament. You never know when it might be the last, so I always try to enjoy it."
The win is not only Nadal's third title of 2017 but also his 30th Masters 1000 title, the joint-most along with Novak Djokovic, and extends his clay-court season record to 15-0.
The 14-time Grand Slam champion will also overtake Roger Federer to number four in the world rankings that will improve his seeding ahead of the French Open, which Nadal will look to win for a record 10th time.
As for Thiem, the 23-year-old is happy with his improved performance against Nadal in his first Masters 1000 final as he feels the match was more even.
"I got a break in the first game," Thiem said, as quoted on TennisWorldUSA. "Basically I couldn't do the rebreak until the end of the match. I had some chances in the last game. I didn't do any bad mistakes at my break chances."
"He was defending it well. I think it was a good fight out there. I was much, much better and much closer than in Barcelona. I think I already had worse weeks in my life than this one."