On paper it might not look an even contest - One Direction singer vs Wales rugby player.
But that didn't stop pop star Niall Horan from stoking the flames with Welsh scrum-half Mike Phillips.
The pluky Irishman tweeted 16-stone Phillips following Ireland's 26-3 hammering of Wales saying:
@NiallOfficial: "Mike Philips [sic] is like a child throwing his toys out of the pram! his attitude is terrible, looks like a right arrogant idiot"
But the defeated Welshman did not take to the criticism laying down, and replied:
@mikephillips009: "come down to training in the week big boy. Bring the rest of The Beatles with you."
But the 1D man stood his ground, later tweeting:
@NiallOfficial: "@mikephillips009 cool story big fella! only go and watch good rugby teams anyway so no thanks ! #wanabeestevejones "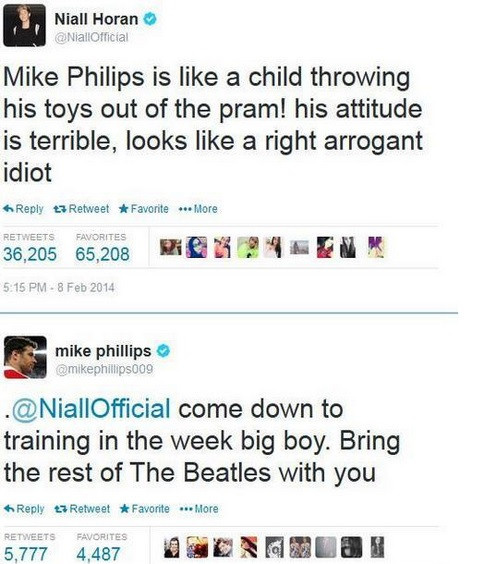 Niall Horan vs Mike Phillips: how they match up
Height:
NH: 5ft 8
MP: 6ft 3
Weight:
NH: 11.5 stone
MP: 16 stone
Profession:
NH: Globally famous One Direction singer
MP: Wales and Racing Metro scrum-half
Did you know:
NH: According to the Sunday Times Rich List, by April 2013 they had an estimated personal combined wealth of £25 million
MP: Phillips is Wales's most capped scrum-half
Finishing move:
NH: Ear-piercing shriek
MP: Dump tackle