Opec Meeting: Venezuela Backs Output Cut as Prices Tumble
Ecuador supports Venezuela's stand and the two will make a joint proposal.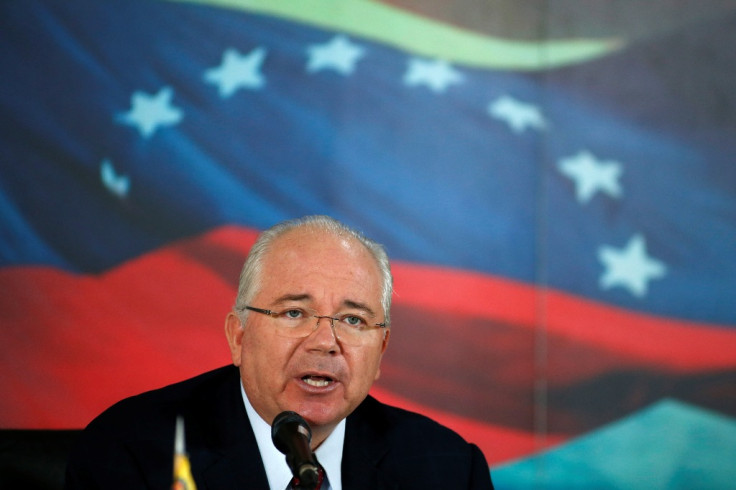 Opec-member Venezuela said it is proposing that the oil cartel cut output to ease a global supply glut.
But crude oil futures tumbled further on 27 November, signalling a lack of faith among traders in the 12-member cartel's readiness to act.
Venezuelan Foreign Minister Rafael Ramirez, speaking to reporters in Vienna ahead of today's Opec meeting, did not specify the size of the cut. But he said it should be similar to the reduction the cartel made at Oran, Algeria, in 2008, when it cut its target by 2.46 million barrels a day amid the global financial crisis.
Ramirez also said that Ecuador supports Venezuela's position and the two countries will make a joint proposal.
The market, according to Ramirez, was oversupplied by nearly two million barrels a day, equal to or more than what six of Opec's members produced in October.
Prices Plunge
Oil futures extended their losses amid speculation that Opec will not cut output.
Brent crude was trading 2.28% lower to $75.98 a barrel at 1144 GMT.
US crude was trading 2.01% lower to $72.21 a barrel.
Ramirez said: "Everybody has to make some sacrifice. The risk is that the price will fall down and remain down for a long time.
"We're trying to find a fair price for everybody."
"The US is producing in a very, very bad manner. The shale oil, I mean it is a disaster from the point of view of climate change..." Ramirez added.
Meanwhile, Olivier Jakob, the Paris-based managing director of researcher Petromatrix, told Bloomberg: "It looks like they will not cut. We're starting to price that in now"
"The impression is that [Opec] needs to withstand lower prices for a little while in order to stabilize the market," Jakob added.
© Copyright IBTimes 2023. All rights reserved.