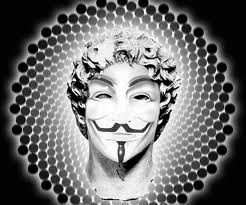 Greek police have arrested a young hacker suspected of breaching the justice ministry's website earlier this month, according to local reports.
Security officers also detained two other teenagers over the case, police said.
Hackers operating under the Anonymous collective defaced the website belonging to the Greek ministry of justice and posted a statement in response of the government's austerity measures and its signing the controversial Anti-Counterfeiting Trade Agreement(Acta).
"You have introduced a new dictatorship upon your people's shoulders and allowed the bankers and the monarchs of the EU to enslave them both economically and politically," the statement said. "Democracy was given birth in your country, but you have now killed it."
Earlier in February, lawmakers voted 199 to 74 in favour of a deeply unpopular austerity bill, which imposes harsh measures in return for a second bailout agreement worth €130bn (£110bn) to shave the country's national debt. A total of 37 lawmakers from the Pasok socialist and conservative New Democracy parties voted against the bill, abstained or simply acknowledged that they were present.
Greece was also one of the 22 signatories to Acta among European Union states. Acta aims to create international standards for intellectual property protection. Bloggers fear it will turn out to be as pernicious as the Stop Online Piracy Act, which was withdrawn by the White House and the US Senate after a mass protest by hundreds of major user-generated content websites.
Greek authorities have linked the three young hackers to dozen of cyber-attacks against government websites. They reportedly used nicknames like "delirium", "nikpa" and "extasy" during their assaults.