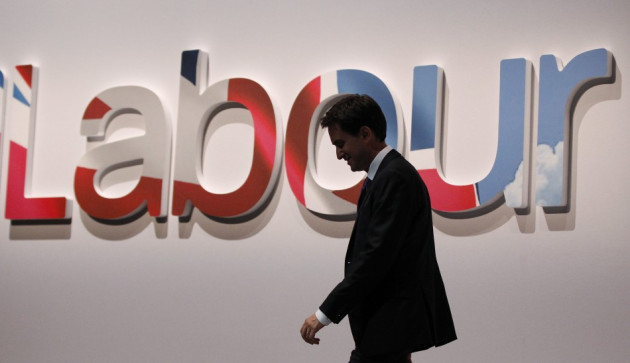 The new year has not brought much reprieve for Labour's leader, Ed Miliband, who has begun 2012 much in the same position as he finished 2011 - behind in the polls and struggling to find a central message that will boost his credibility as a realistic contender to lead the party and the country.
It seems, however, that time is running out for the 42-year-old. Reports of a rift in the shadow cabinet prior to Christmas have been leaked and drawing pieces of the puzzle together, it appears Labour members are planning to challenge the leadership of Ed Miliband.
The International Business Times UK looks at the evidence.
Shadow Defence Secretary Takes Centrestage
Jim Murphy, the shadow defence secretary, effectively told Ed Miliband to stop playing party politics by criticising every cut the collation government has made. He said "shallow and temporary" policies to win a few cheers in the Commons had to stop and in response a £5 billion cut in Labour's defence policy has been accepted.
Murphy, who ran David Miliband's leadership campaign 18 months ago, rocked the boat with his comments but the Labour leader is away and out of the public eye until next week.
Lord Glasman Attacks Protégé

The founder of "Blue Labour" and supposed guru to Ed Miliband, Lord Glasman lambasted the leadership as having "no strategy and little energy".
He told the New Statesman: "On the face of it, these look like bad times for Labour and for Ed Miliband's leadership. Old faces from the Brown era still dominate the shadow cabinet and they seem to be stuck in defending Labour's record in all the wrong ways."
Lord Mandelson Raises Doubts
One of the founding fathers of New Labour, Lord Mandelson, when questioned over the leadership advised Miliband of the "dangers" of heading too far away from the election-winning formula that won Labour three general elections.
Speaking on the Andrew Marr Show, he said: "He's a chap with views, he has a position in politics and he has a project. That needs to take shape and become better defined during the course of the coming year."
Political Odds Slashed against Miliband
By the end of 2011, the odds on Miliband being replaced as leader in 2012 were massively slashed by the bookmakers Ladbrokes from 10/1 to 4/1.
Specialist political odds analyst, Alex Donohugh, told IBTimes UK that this sort of drop "represented a serious change in the political outlook".
He said: "That change in odds is a big deal. For a politics market, it's fairly significant."
Ladbrokes also does not believe that Miliband will be prime minister before 2020 with odds of 1:2.
Comparison with Iain Duncan Smith
Iain Duncan Smith, dubbed the "quiet man", lasted just two years as leader of the Conservatives and was not even given the opportunity to campaign in a general election as he took an ailing party even further into the depths of un-electability.
The comparisons with the former Tory leader have been so worrying for Ed Miliband that his chief of strategy, Tom Baldwin, was forced into writing a memo to senior Labour politicians aiming to quash perceived similarities between them.
"Ed's poll rating broadly comparable with Cameron's in first 18 months of his leadership," he said. "Comparisons with IDS, [William] Hague or [Michael] Howard well wide of the mark.
"Polls have been remarkably stable for the last year since we took the lead with blips over Europe turning out to be mere blips. No reason to believe there is more we could have done so soon to move Tories over to our side. Damaging splits or return to factionalism would have made it a bad year."
Regular Talk of Replacements
There have been rumblings among journalists and politicians about the impressive Common performances of the shadow home secretary, Yvette Cooper.
Having not run for leadership in 2010, her handling of the border controversy won particular appraisal from many quarters of her party and some have come to see her as a natural leader. This has added pressure on Miliband, who has seen other members of his cabinet regularly outperform him in the Commons.
Political commentator John Rentoul has said Cooper would make a fine leader.
Then of course the older brother Dave Miliband, who has begun to make regular Commons appearance, using solitary questions with more effect than the half dozen his younger brother gets as leader. He has also avoided publicly mending fences with his brother, making a coup more feasible.