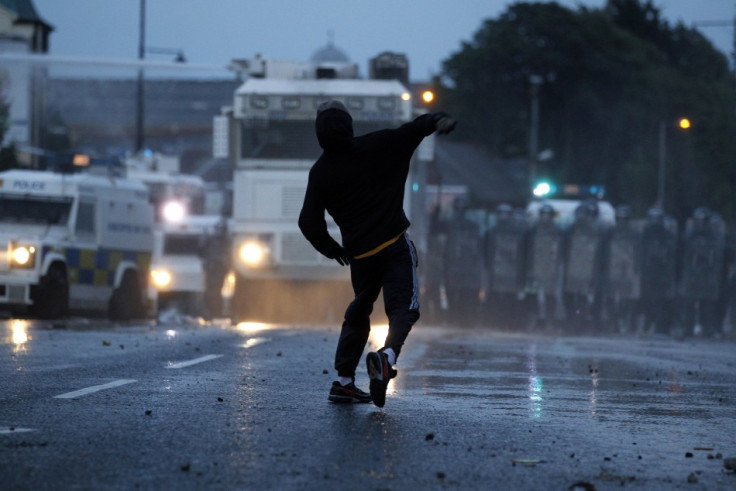 The 12th July Orange Order demonstrations take place at around 18 venues across Northern Ireland commemorating Prince William of Orange's 1690 Battle of Boyne victory over Catholic King James II. It is expected that over 500,000 Orangemen will parade at up to 18 venues across Northern Ireland with most of the demonstrations expecting to pass off peacefully although a major security operation is in place across North Belfast.
The Orange Order is strongly linked to British colonialism especially in Northern Ireland and Scotland. Most Orange lodges hold parades from their Orange halls to a local church. The 12th July marches are seen by many as anti-Catholic, provocative and triumphalist.
The Orange Order demonstrations have always been controversial in Northern Ireland and the riots of yesterday evening in Belfast show that tensions are still high over the planned demonstrations. Catholics complain that the protests are intimidating, triumphalist and anti-Catholic, where the Protestant Orangemen have always claimed there marches are moderate and have tried to rebrand the event over the past couple for years.
There will be two flagship marches on the 12th July and they are hosted by Comber, Co Down and Randalstown, Co Antrim. The Independent Orange Order's marching parade takes place in Ballymoney, Co Antrim.
It is expected that ion Belfast up to 250,000 people will join parades and marches across the city for the annual Orange Order parade which is due to start at 10am. The 12th July is a bank holiday in Northern Ireland and is the annual high point of the Loyal Order's parading calendar. Some marches have been a source of tension between the nationalists and Orange Order but attempts have been made in recent years to rebrand the event as more and more tourists flock to Northern Ireland to be a part of the parades.
Violence at Orange Order Marches
1995 - Violent protests spread across Northern Ireland when police block an Orange Order parade near Portadown, an Orange heartland. Police back down after four nights of Protestant riots across Northern Ireland and the parade passes through Portadown's main Catholic district. This sparked off Catholic riots and IRA gun attacks.
1999 - On 12 July three Catholic boys were killed in a loyalist petrol bomb attack on their home in Ballymoney, Co Antrim. In the aftermath of the attack, the Drumcree protest was scaled down but was maintained unbroken until the following July
2000 - Huge barriers separated nationalists and Orange Order protestors. Two people were murdered and more than 20 RUC officers were injured. A Loyalist suspected of being linked to Ulster Volunteer Force was shot dead at a 11th Night Bonfire in Larne, Co Antrim and a man was stabbed to death in Coleraine, Co. Londonderry. Another man was stabbed and critically injured in east Belfast.
2009 - A Catholic priest was assaulted by a rioter during violence on the streets of north Belfast on Friday night. Holy Cross parish priest Fr Gary Donegan condemned those responsible for the disorder which flared during the Orange Order's Tour of the North parade. The Fermanagh-born priest was assaulted by a young rioter as he tried to restore peace to the streets around Ardoyne.
For more information on last nights rioting in Belfast click here